Initiatives like BIM see average value of disputes drop by half last year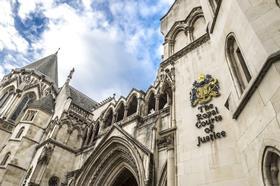 The average value of construction disputes in the UK fell by 47% last year, according to Arcadis with one of the reasons being put down to firms' greater use of technology.
The value of disputes in the UK averaged just $17.9m (£14.1m) in 2018 – well below the global average of $33m (£26m).
In 2017, the average value of a dispute in the UK was $34m (£26.7m).
According to the the latest Arcadis Global Construction Disputes Report, the UK remained the jurisdiction with the shortest average length of time to solve a dispute – 12.8 months. But this is up on the previous year's time of 10 months.
Gary Kitt, head of UK contract solutions at Arcadis, said: "As we continue to transition towards greater use of digital technologies like BIM and 4, 5 or 6D modelling, we are likely to see an improvement in risk allocation much earlier on in the process."
He said increased use of digital would help deal with difficulties before cost and time pressures escalate leading to legal rows.
Globally, the most expensive and protracted construction disputes were in the Middle East, with the average dispute worth $56.7m (£44.5m) and taking 20 months to resolve.
Arcadis' dispute resolution figures

Source: Arcadis Global Construction Disputes Report 2019: Laying the Foundation for Success