Firm picked to work on wider estate may also deliver home for both houses during Palace of Westminster repairs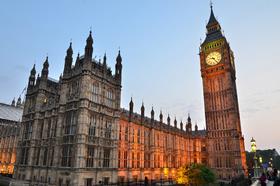 The winner of a £500m programme to upgrade a string of buildings containing MPs' offices in Westminster, known as the Northern Estate, may also be required to deliver a new temporary home for the Houses of Parliament, Building has learned.
Last week parliament began its search for a contractor to carry out its Northern Estate programme, which involves restoring and upgrading several grade I and grade II-listed buildings, with firms given until early next month to express interest in the role.
But the government has confirmed the programme could also incorporate works to decant parliament into a temporary home while a multibillion-pound renovation is carried out on the Palace of Westminster (pictured).
It is understood the Department of Health's headquarters, the 1980s-built Richmond House, which is a stone's throw away from the Palace of Westminster, is still the frontrunner to be parliament's temporary home and that the necessary conversion works could be rolled into the Northern Estate programme.
In March, Building revealed Richmond House could be set for a six-year £240m refurbishment as part of the Northern Estate overhaul.
A parliamentary joint committee is currently finalising a report into its preferred option for restoring the Palace of Westminster, which could take up to 30 years and cost between £4bn and £6bn.
A parliamentary spokesperson confirmed decanting parliament could form part of the Northern Estate programme but declined to comment on candidate buildings.
The spokesperson said: "No decisions have yet been taken on the future restoration of the Palace of Westminster.
"Subject to members of both houses making a decision in principle that would require the provision of temporary accommodation, the [Northern Estate] contracting partner may also be required to deliver decant accommodation and / or enabling works for the Palace of Westminster Restoration and Renewal Programme.
"This is hypothetical at the moment, but parliament is keen to understand how the market might respond to such a requirement were it to arise."
The Northern Estate portfolio of buildings includes the grade I-listed Norman Shaw North and grade II-listed Norman Shaw South buildings - both of which are now over 100 years old - along with 1 Derby Gate and 1 Parliament Street, a pair of grade II-listed adjoining buildings dating from the 1880s, and Cannon Row residences.
Back in May, Building revealed a number of firms were chasing the project and cost management role on the Northern Estate programme, including a Mace and Aecom joint venture, a team featuring Lendlease and Sweett, and individual bids from Arcadis and Turner & Townsend.