Company to halve investment after posting record £6.4bn pre-tax loss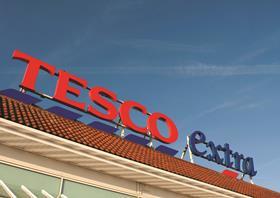 Tesco has confirmed drastic cuts to its capital spending programme after posting a record pre-tax loss of £6.4bn.
Tesco confirmed it had exited plans to build out 49 stores and would undergo a "significant reduction to our store building programme", as announced in a trading statement in January.
The firm will halve total capital expenditure for the 2015-16 year to £1bn, down from around £2bn this year.
More than half of Tesco's losses, £4.7bn, were due to falls in the values of its property portfolio, including its UK stores. The company also announced it would close 43 stores earlier than planned this month.
Speaking about the results, Tesco chairman Dave Lewis admitted it had been a "difficult year" for the company.
He added: "The results we have published today reflect a deterioration in the market and, more significantly, an erosion of our competitiveness over recent years.
"We've got a long, long way to go and I don't think it will be smooth as we move through the changes we want to make. We have sought to draw a line under the past and to rebuild from here. Everything we know [about] we have dealt with."