Crossrail's chief operation's director says he was told to keep quiet about difficulties over testing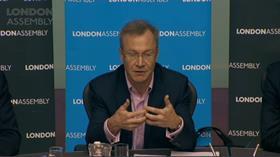 Transport for London has again been accused of hiding problems on Crossrail from London mayor Sadiq Khan.
Fronting the London Assembly last week, Crossrail chief operations director Howard Smith (pictured) admitted he had wanted to alert Khan that there was "insufficient testing time" but said that references had been removed from a weekly update.
Labour Assembly member Tom Copley read out an email dated 19 June last year, in which Smith objected to alterations made to a progress report, saying they should be undone unless they were made by the TfL commissioner Mike Brown.
The email said: "Removing the statement re insufficient testing time is wrong...We see it is a critical issue that we need to note. I'd remind them [the persons who removed the statement] that we have been taken to task for not highlighting risks. If it's Mike [Brown], I don't think it changes my view but he is the boss."
Copley said Smith appeared "quite adamant that this needed to be included" and that he "wonder[ed] why you think it was taken out, as it transpired, by Mike Brown?"
Smith said the update needed to be seen in context, that the reports were made weekly and that at the time, the timescale for testing was not an issue he felt was "hugely, hugely significant".
Copley went on to read out another email from TfL's head of corporate affairs Andy Brown that said Mike Brown "felt strongly that we can't spring things like this on the mayor in a weekly note when there is ample opportunity to trail this in person".
In response to the revelation a TfL spokesperson said: "The reports provided a snapshot of the status of the project and were in addition to the formal processes in place for Crossrail Limited to provide updates including meetings with the Mayor, TfL board meetings and sponsor board meetings.
"There were rare occasions when it was felt that information should not be included as a simple line in a weekly report but needed detailed explanation at regular face-to-face meetings, including details of the planned remedial action to be taken."
The news does back up claims made by axed Crossrail chairman Sir Terry Morgan at a London Assembly session earlier this year.
At an inquiry held by the Assembly's transport committee in January, Morgan said the weekly reports he produced to update Khan on the progress of Crossrail had been "routinely" altered by TfL.
Morgan produced a report created on 9 June last year, saying that sentences he had written referencing a lack of "sufficient time" to complete stages of the project had been removed by TfL.
Morgan said: "There is a paragraph which says: 'At the moment there is insufficient time to complete the testing required ahead of the joint trial running and trial operations from 1 October. This remains an area of serious attention and an improved plan to balance construction and testing time is being developed over the next few weeks'.
"That paragraph, in what was sent to the mayor, was deleted by TfL."
The revelation came after key emails exchanged between senior members of TfL and Crossrail were handed over to the London Assembly for its investigation into the £17.6bn railway's delay.