TfL and the mayor have pledged £148m to London's councils to carry out improvement works on the capital's roads and public spaces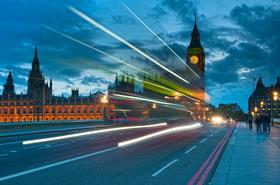 Transport for London (TfL) and the mayor of London have confirmed the provision of £148m in funding for transport projects in 2016/17 in London's boroughs.
The funding includes £1.4m for the transformation proposals for Bank Junction and £6.4m for the creation of better cycling routes and public space in the West End.
Funding has also been provided for the West End Project, which aims to transform the area around Tottenham Court Road, while Croydon will receive £4.8m, including £550,000 towards its high street improvement scheme.
The annual borough funding from TfL helps London's boroughs pay for local transport projects set out in their Local Implementation Plans (LIPs), which in turn show how the boroughs will support the mayor. The total value of the funding is the same as last year.
The mayor of London Boris Johnson said: "This latest round of funding will help to transform scores of locations in all four corners of our great city.
"It is specifically targeted to help make our roads, town centres and open spaces more attractive places with better facilities for walking and safer cycling. By helping the boroughs deliver on important local transport schemes, we can help to spur jobs and growth across London."
Mike Brown, London's transport commissioner, said: "Londoners will see real improvements to their local areas as a result of this funding.
"Working with London boroughs, hundreds of transport projects will be delivered that will benefit pedestrians and road users, through safer streets and improved public squares and shopping areas. These improvements will help transform communities and boost the local economy."
The overall 2016/17 LIPs budget of £147.8m is allocated as follows:
£74.25m is allocated for corridors, neighbourhoods & supporting measure
£28m is allocated to major schemes
£8.9m is awarded for bridge strengthening (individual allocations to boroughs to be made in January 2016)
£10.3m is allocated for traffic signal modernisation for sites across London
£4.35m is allocated for apprenticeships, staff training and support for partnership
£21m is allocated for principal road maintenance based on condition surveys
£1m is held for principal road maintenance emergency works and condition surveys