Transport group says efficiency rates on work have been 'disappointing'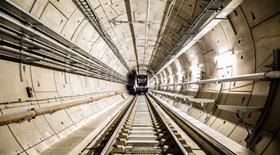 Transport for London says it is disappointed in the efficiency of teams pushing to complete the Crossrail tunnels.
In papers published ahead of next week's TfL board meeting, the London transport authority said finishing the tunnels was still a significant problem.
The papers said: "The completion of the rail systems infrastructure in the tunnels remains a key issue and productivity has been disappointing."
Testing of the software, known as main dynamic testing, being used in the tunnels only restarted last week, meaning the amount of time available for firms to finish off necessary construction work in the tunnels has been reduced.
"Any outstanding work remaining after the start of main dynamic testing (MDT) will have to be undertaken around the testing programme and the plan for MDT reserves some time for this," the papers added.
The papers said that aside from finishing the railway infrastructure and running and completing both dynamic testing and trial operations, Crossrail's focus was on completing and integrating all works and associated safety assurance documentation in the stations, shafts and portals.
The documents said Crossrail's focus for the completion of stations, shafts and portals has been on the dates for the substantial demobilisation of Tier 1 contractors.
"It is encouraging that these dates have been achieved for Custom House, Woolwich, Farringdon, Whitechapel platform areas and several shafts and portals."
TfL said achieving the remaining dates in the next six months was a key programme priority.