Foreign secretary beats Rishi Sunak with 57% of the vote
Foreign secretary Liz Truss has been confirmed as the new prime minister, beating former chancellor Rishi Sunak to the role.
Truss will formally take over tomorrow afternoon when Boris Johnson, who was elected in summer 2019, leaves his position.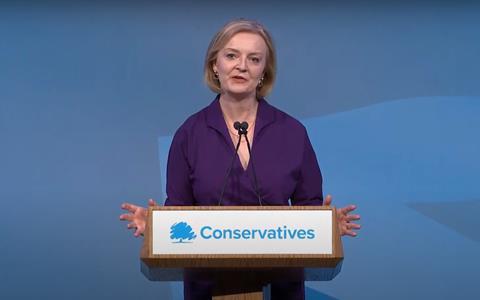 Truss won with 57% of the vote with nearly 83% of the Tory party membership turning out to vote.
She said: "Thank you for putting your trust in me to lead and deliver for our great country. I will take bold action to get all of us through these tough times, grow our economy."
A cabinet reshuffle is expected in the hours after Truss assumes post with a new housing secretary widely expected to take over from incumbent Greg Clark who has only been in the role since the summer since Michael Gove was sacked.
Both Treasury chief secretary Simon Clarke and minister for Brexit Opportunities Jacob Rees-Mogg were tipped at the weekend as potential successors in the key role.
>> Also read: Truss faces net zero dilemma in tackling energy crisis
Truss pledges to scrap planning red tape in 'investment zones'
>> The next PM must address the built environment before it's too late
>> Short-term solutions must not prevent us from building back better
In Liz we Truss? What the industry is saying
Simon Peacock, head of UK regions, JLL
"More so than for any other prime minister in living memory, there's no time to waste for Liz Truss. Businesses across all of the UK's regions are keen to see meaningful progress made on this Government's levelling up and Net Zero commitments, especially with a potential recession looming.
"Devolution, spending on infrastructure and creating clusters of businesses with specialisms in green industries are all high up the wish list for businesses, but they also want to see more engagement with local leaders to ensure their voices are being heard. A new government means a fresh start, but action is needed sooner rather than later."
Gillian Charlesworth, CEO, Building Research Establishment
"The new UK Government must ramp up its action on climate change – and central to this should be driving a green transition in the built environment. We were pleased to see the newly appointed Prime Minister, Liz Truss, pledging to help people insulate their homes as the UK heads towards net zero. However, we will need to go much further if we are to fully decarbonise the UK's building stock, which currently makes up a quarter of the UK's greenhouse gas emissions.
"With macroeconomic pressures worsening, rolling out measures to improve the energy efficiency of our housing stock will be paramount in relieving households of the financial pressures they are currently facing. This is why we are urging our new Prime Minister to publish a credible and effective plan to decarbonise our existing homes and buildings.
"It is crucial that any plans to scrap green levies do not impact energy efficiency schemes, which are critical in delivering improvements to our housing stock."
Stephen Marcos Jones, CEO of the Association for Consultancy and Engineering
"The process has – unfortunately – delayed much needed action from Government. We know that inflation, rising energy prices and wages are already severely impacting the short to medium term outlook for our sector.
"Investment in our national infrastructure, and the construction industry more widely, is crucial to weathering any potential economic storm. It will ensure we maintain a long-term view on the economy and invest in a sector which can provide jobs and growth."
Marie-Claude Hemming, director of operations, CECA
"We acknowledge that the current fiscal outlook is challenging. Nonetheless we call on the new Government to hold its nerve in the face of the current economic headwinds, and commit to existing programmes of investment, to project jobs, and ensure market confidence. The infrastructure sector is looking for clarity, continuity, and consistency from the new Government."
Simon Allford, president, RIBA
"As people and businesses grapple with soaring inflation and surging energy prices prompting major fears about heating homes this winter, Liz Truss has a colossal task on her hands.
"While some form of immediate relief is clearly vital, Truss must also prioritise long-term energy efficiency improvements. This includes protecting funding for Energy Company Obligation (ECO) and implementing a National Retrofit Strategy to significantly reduce home energy consumption and create thousands of jobs across the country.
"Building safety and planning reforms cannot fall to the wayside. Truss must also prioritise embedding clear, robust building safety and accessibility requirements into regulations, properly resourcing planning departments, and ensuring long overdue planning reforms deliver the types of high-quality homes we need.
"This is an opportunity for the Government to refocus and prioritise."
Colin Wood, chief executive Europe and India, Aecom
"Our message to the incoming Prime Minister is not new, but it needs reiterating: investment in both big ticket infrastructure projects as well as smaller regional and local schemes is critical. For example, we won't be able to achieve an affordable, sustainable and secure energy supply and reach net zero without significant investment in energy infrastructure, such as offshore renewables.
"To grow the economy and to level up, the infrastructure sector can do more than build, it can design with outcomes for community, value and sustainability at a scheme's heart. Encouraging innovation and harnessing new technologies will be critical to developing infrastructure which allows people to optimise how they chose to live and work in their local communities. Sustainable, well-insulated, fit-for-purpose homes that are connected by safe, reliable public transport choices is integral to growing our economies across the UK, focusing on the creation of jobs, skills and economic prosperity in those regions that need it the most.
"As an industry, we understand the immediate pressures on the public purse and that people will need short term, quick fixes to help alleviate the cost of living crisis. But we implore the new Prime Minister to invest in the long term too with a clear pipeline of deliverable projects and empower the industry to build resilient infrastructure which gets to the root of many of our problems."