Company collapsed in June owing creditors £47m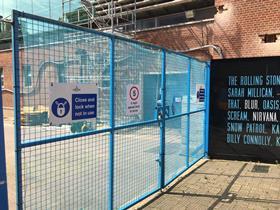 Three firms ran the rule over buying stricken contractor Shaylor Group, documents filed at Companies House reveal.
In them, the firm's administrator FRP Advisory also gave reasons for Shaylor's collapse – as set out by the firm's directors.
Shaylor went into administration in June, ending more than 50 years of business, leaving 210 people without jobs and creditors on the hook for more than £47m.
Trade creditors are out of pocket by £19m while the only preferential creditor Allied Irish Bank is owed more than £14m.
FRP said three firms expressed interest in buying Shaylor after it went into administration and in an update to creditors added: "There still remained some possibility (albeit limited) of achieving a going concern sale of the wider business and interest on this basis was fully explored. Unfortunately, none of these parties ultimately progressed their interest any further."
The documents also revealed that 28 firms looked at taking over the firm's contracts with five separate firms putting in offers for five contracts.
FRP said one was "not considered deliverable" after the bidder said it wanted to delay restarting the job while the other four "were rejected by their respective clients".
In the months leading up to its collapse, Shaylor had been looking to pump in extra cash into the business with one option being looked at a so-called accelerated merger and acquisition known as an AMA.
FRP, which had been brought in by Shaylor in April this year to look at options to raise additional funding, said talks with a potential white knight ended just 72 hours before Shaylor sank.
"The AMA process generated interest from several parties, with one party in particular demonstrating serious interest," FRP said. "However, following a short period of due diligence and further discussions, on Friday 14 June it was concluded there was no realistic prospect of completing a transaction in the requisite timescales."
The AMA process, which was handled by London investment bank Stephens Europe, had been sanctioned after the directors decided a merger and acquisition initiative, begun by FRP in May, needed to be quickened up.
FRP added that pre-pack administration, where a company is sold to a new owner before going into administration and leaving the debts behind, was also ruled out because there was "no realistic prospect of achieving a continuation of the business".
FRP said among the reasons Shaylor's directors, who include brothers Stephen and Richie Shaylor, gave for its collapse were cashflow drying up following "generally stricter enforcement of credit terms by suppliers and subcontractors".
And it said Shaylor had incurred delays on contracts "as a result of subcontractors reducing activity levels on sites (due to the company being outside of agreed credit terms)".
The extent of the financial hit now facing trade contractors is laid bare in the 57-page report with 44 firms owed £100,000 or more. Of these, six are owed each owed more than £500,000. The largest trade creditor is Redditch mechanical contractor Hartle, owed more than £821,000.
Glasgow firm Elmwood Projects, which was working on Shaylor's scheme to build a visitor centre at Silverstone in Northamptonshire, is owed close to £318,000. The fit-out specialist was appointed last month to complete the job which had been due to finish in time for July's British Grand Prix.
Unsecured creditors have been warned they will get just 0.39p for every pound they are owed meaning of the £19m outstanding, just over £74,000 will be returned.
And Allied Irish Bank has been told to expect "a significant shortfall" on the £14.5m it is owed.
The £142m-turnover contractor, which was headquartered in Walsall, was set up in 1968 by the Shaylors' father Fred who died in 2013.