Fallout will see banks toughen up lending criteria, consultant warns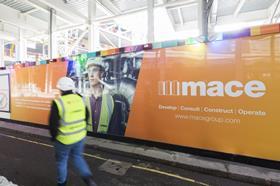 Mace has said that Interserve's collapse into administration three months ago will mean its peers and subcontractors will be hit with increased costs.
In its latest tender cost update, the consultant said the ramifications would mean contractors and subcontractors will see the cost of business increase with banks putting the squeeze on the terms of their lending conditions.
It said Carillion's collapse had led to lenders tightening credit conditions and greater due diligence from clients, adding: "Interserve's failure will likely result in even tougher [lending] criteria, changes which will only add to the costs facing contractors and sub-contractors."
And the firm said: "While a relief to employees and the supply chain, [Interserve's administration] once again highlights a major problem for tier one contractors, in particular those also involved in outsourcing.
"By operating on such fine margins, it doesn't take many projects going wrong before there is significant damage to a firm's viability."
Elsewhere, Mace said ongoing Brexit indecision has seen it slash its tender price forecast for 2020 from 2% to 1.5%.
The managing director of its cost consultant business Steve Mason said: "The ability of the marketplace to absorb these higher costs against a background of tightening margins will be limited, and we expect tender prices to continue to increase at a modest rate through to 2020."
The UK is due to leave the EU at the end of October.

Want to hear more about the challenges facing contractors and what can be done to address them? Head along to our next Building Live Club in the series on 4 July: Digital futures and managing risk - Top 150 contractors event, sponsored by Fenwick Elliott
Sessions include:
Results of the 2019 Top 150 contractors and housebuilders - what do the results say about the current state of the construction industry?
Embracing new technology within a successful contractual framework
Making the most of digital – how can the industry make the leap?