Former business secretary criticises reliance on immigrant workers ahead of restrictions post-Brexit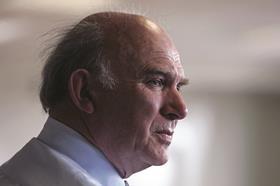 Former business secretary Sir Vince Cable has rebuked big construction firms for taking the "soft option" of relying on immigrants to fill labour shortages.
Talking to Building about the industry's prospects during Brexit negotiations, which are due to be triggered next month, Cable (pictured) warned: "Access to labour is where things will have to change and they [construction firms] will have to get used to producing more British skilled labour. The industry has fallen down very badly there."
Cable, who was business secretary throughout the coalition years before losing his Twickenham seat in 2015, was fiercely pro-Remain.
However, he recently shocked former parliamentary colleagues by writing in a column for the New Statesman of harbouring "serious doubts that EU freedom of movement is tenable or even desirable", arguing that it was not fair on countries outside the bloc, such as India.
The UK's construction sector, though, has relied on EU workers for years. The Social Market Foundation said last year around 5% of the industry's workforce came from non-UK countries in the European Economic Area. In the build-up to last year's referendum, a Building survey found 55% of construction executives feared Brexit would drive up labour costs.
Cable's comments come as over 2,000 Building readers took part in a survey asking construction professionals what they want from an exit deal with the EU.
The survey, which closed on Tuesday, was conducted as part of the Building A Better Brexit campaign to highlight the specific needs of construction prior to the government's negotiations to leave the EU.
The results of the survey will be published in Building later this month and will also inform a review by Lord Andrew Stunell for the House of Lords into the implications of Brexit for construction.
Cable said he thought a special visa system allowing European construction workers onto sites would be drawn up "eventually", but warned: "Not a great deal of training takes place, because it's all been left to the smaller guys and the smaller guys just can't afford it. The innovation, the use of computing techniques and off-site assembly is pretty underdeveloped in the UK.
"Although I'm in favour of a broadly liberal regime on immigration, I think we are going to have to produce more of our own skilled people. It's been very badly neglected in the past and immigration has been a soft option for the industry."
Cable singled out Laing O'Rourke for its commitment to training. In November, the group came up with a 10-point plan to bridge the UK's infrastructure skills gap, including GCSEs and A-levels in design, engineering and construction.
Construction leaders are hoping the government will conjure a deal that will maintain strong labour ties with the EU. But Cable said the industry should not expect "an easy ride", or to be prioritised, by ministers, who will make the "not unreasonable demand" they improve their domestic training practices as a result of Brexit.