Tim Yeo says he has "serious concerns" over the economic viability of the proposed Severn Barrage scheme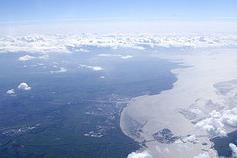 Top green Tory Tim Yeo has said he has "serious concerns" over the economic viability of a proposed Severn Barrage after the scheme's champion, Peter Hain, MP, was quizzed by MPs today.
Hain, who has been an outspoken championed of the scheme, told the Energy and Climate Change Committee that Hafren Power, the scheme's developer, would be willing to agree a guaranteed price for its electricity well below the £170 per MWh that it estimates it will cost to produce the power.
He said: "They are not asking for anything more than offshore wind gets and the cost will be significantly less because of the protection it brings to the nation."
Hain said the barrage would act as a defence agaisnt tidal surges which would help to offset some of the costs.
Offshore wind power currently costs around £140 MWh and the government is understood to be opposed to guaranteeing an electricity price above £100 MWh for any technology.
Hafren Power's estimates the barrage would cost £25bn to build.
But Yeo, chair of the committee, said: "Hafren's evidence already suggests the costs are £170 kwh but they are happy to settle for a strike price very much below that. How are they going to reconcile that for the 30-years before it [the electricity] becomes much cheaper?"
"I think there are some pretty serious concerns on the financial side as well as the environmental issues."
Environmental groups slammed the scheme as "guff" and "spin" saying it wasn't possible to verify Hafren's claims that the turbines would not kill fish in the estuary.
Martin Salter, national campaigns coordinator at the Angling Trust, said: "Claims that these turbines are fish friendly are absolute guff."
He said the barrage would affect fishes' ability to find their way to their breeding grounds; fish would be "minced" by the turbines and the slower moving water water would be too murky to allow them to navigate.
Kate Jennings, head of site conservation policy at the RSPB, said it was very difficult to predict the effect it would have on wildlife but that many other similar schemes around the world had had a negative impact on their local ecosystems.
But defending the benefits of the scheme Hain said: "It will supply 5% of the UK's energy needs, that's the equivalent of three nuclear power stations or 3,000 wind turbines."
He said it would protect Bristol, Newport and Western Super Mare from tidal surges and would require no Treasury support. Plus, he claimed it would create 50,000 jobs.