David Cameron will say party backs "the dream of a property-owning democracy", and also pledges £1bn brownfield housing fund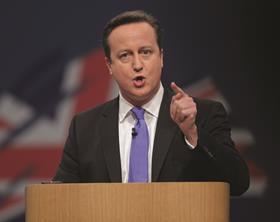 The Conservatives will today pledge to extend the right to buy policy to 1.3 million people living in housing association homes if it wins the general election.
Launching his party's manifesto later, David Cameron will say "the dream of a property-owning democracy is alive - and we will fulfil it."
The extension of the right to buy policy would require housing associations to sell stock to occupants at a discount, with the government footing the total cost of discounts offered.
The Conservatives said they would pay for the policy by forcing local authorities to sell off their most expensive council housing when it becomes vacant, which it expects would raise £4.5bn a year.
In an attempt to assuage fears the policy will result in further reductions in the social housing stock, the Conservatives insist they will ensure "one-for-one replacement" of housing association homes sold under the policy.
A Conservative government would ensure councils built 400,000 new homes over five years through a £1bn new fund to unlock brownfield land. Local authorities would submit projects to clean up derelict or contaminated sites.
On the BBC Today programme this morning, Ruth Davison, director of policy at the National Housing Federation, slammed the Conservatives' Right to Buy policy.
She said right to buy was "the wrong answer to the housing crisis," adding: "Halfway through a programme of austerity why give £20bn away to people who already live in secure homes?"