'Aldous Bill' has parliamentry backers from across the house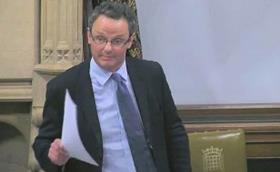 The MP behind a proposal to protect retentions in the construction industry has been unanimously granted leave to bring in the bill, with a second reading scheduled for April 27.
Tory MP Peter Aldous today introduced the Construction (Retention Deposit Schemes) Bill in the House of Commons under the 'Ten Minute Rule'.
Aldous' proposal has widespread, with 12 MPs including Caroline Lucas, the Green's only member of parliament, Labour stalwart Barry Sheerman and conservative MP Sir Henry Bellingham, who fiercely criticized the CITB's proposed move out of Norfolk, sponsoring the bill.
The 'Aldous Bill' seeks to amend the 1996 Construction Act to ensure retention money is held in a deposit protection scheme – thus ending the issue of upstream insolvency and the working capital it takes from the industry and SMEs.
Under the bill, failure to deposit retention monies in a scheme will render invalid any contract clause enabling the withholding of cash retentions.
Speaking to the house Aldous said: "This is a critical time for the construction industry. We need to be building record numbers of homes. As Brexit approaches the construction industry must be able to operate at top gear and this restrictive and grossly unfair practice acts as a break on activity in the sector. Remove it and we can unleash investment in jobs, apprenticeships and technical innovation."
The average UK contractor has £27,500 withheld per year in retentions, which limits their ability to invest in apprentices; upskill existing employees; and improve productivity and quality. More than £10.5bn of SME's potential working capital is locked up in retentions every year and £7.8bn was unpaid in the past three years.
Aldous said: "According to government figures almost £8bn of cash retentions has remained unpaid over the last three years. Most of this cash has been supplied by SMEs. There is no other industry that puts so much cash at risk and puts such a burden on small businesses."
Department of Business, Energy & Industrial Strategy figures have revealed that 44% contractors have suffered non-payment of retention monies due to upstream insolvency.