Southgate scheme includes five blocks up to 17 storeys in height
A scheme to build a cluster of mid-rise tower blocks in a predominantly low-rise area of north London has been given the green light after an appeal by the developer.
The BPTW scheme at Southgate for developer Viewpoint Estates was initially kicked into touch by Enfield council in summer 2020 after local campaigners had raised concerns over its proximity to the area's famous grade II-listed tube station – Charles Holden's circular, art deco structure opened in 1933.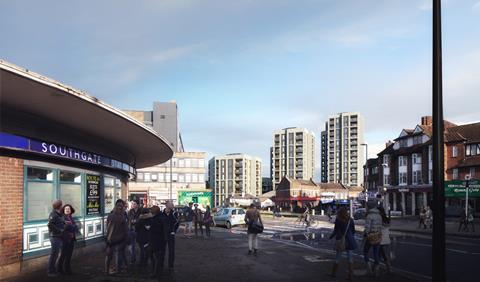 The scheme, next door to a local conservation area, includes a total of five blocks including three towers up to 17 storeys in height, providing 216 homes and 1,720 sq m of commercial space.
Planning inspector Paul Griffiths said that while the proposals were much taller than the nearby station, they "would not seek to align itself architecturally with it, but would sit apart, as a well-designed complex in its own right".
Work will involve tearing down a series of 1980s office buildings and a multi-storey car park and building a new public route to a nearby M&S store.