CITB looking at ways to retain and redeploy 1,400 apprentices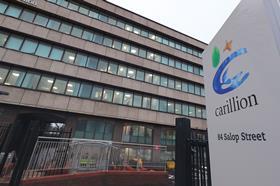 Industry trade bodies have pledged their support to the employees of failed construction giant Carillion.
The Construction Industry Training Board (CITB) said it will take steps to secure the future of Carillion's 1,400 appretices.
It is establishing a project team that will prioritise the retention and redeployment of these apprentices in partnership with the government and employers in the construction industry.
The CITB is currently working on a support package, including grants and apprenticeship transfer incentives, to encourage construction employers to enable these apprentices to join their existing workforce.
It said it would also be working with the Department for Education, the Education and Skills Funding Agency (ESFA) and its network of colleges to enable Carillion apprentices to continue their education.
Sarah Beale, chief executive of the CITB, said: "The news of Carillion entering insolvency is clearly a significant blow to the UK construction sector. While this will present the sector with a number of challenges, CITB's priority is to do all it can to ensure that Carillion apprentices can continue their training so their skills are not lost.
"We will be working closely with the ESFA, the Official Receiver and our network of college providers so that every possible support is in place to help these apprentices continue their training.
"We will be liaising with the Official Receiver with a view to contacting the apprentices as soon as possible."
Commenting on the news that Carillion is to go into liquidation, Civil Engineering Contractors Association (CECA) chief executive Alasdair Reisner, said: "Today's news is extremely worrying for Carillion's staff and suppliers.
"In this challenging climate, it is vital that industry and government work together to provide support to those affected by Carillion's liquidation.
"We will work with the government and other industry representatives to identify where and how this support can best be provided."
The Federation of Master Builders (FMB), which represents thousands of small and medium-sized (SME) construction firms across the UK, said the government must learn from Carillion's demise and assess its over-reliance on major contractors.
"Carillion's liquidation is terrible news for all those who work for the company and it will have serious knock-on effects for the many smaller firms in its supply chain, some of which will be in serious financial danger as a result of Carillion's demise," said FMB chief executive Brian Berry.
"Carillion's liquidation raises serious questions for the government, not least about its over-reliance on major contractors. The government needs to open up public sector construction contracts to small and micro firms by breaking larger contracts down into smaller lots.
"That way, it can spread its risk while also reaping the benefits that come from procuring a greater proportion of its work from a broad range of small companies. Construction SMEs train two-thirds of all apprentices and are a sure-fire way of spreading economic growth more evenly throughout the UK."
A statement from Build UK said Carillion entering liquidation would be felt throughout the whole supply chain.
It said: "Carillion Construction Ltd. was a Build UK Contractor member and we are in on-going dialogue with the government, providing information to support its decision making. To assist us in understanding the impact across the supply chain, we are collating information on the supply chain's exposure across various sectors. In particular, how much money businesses are owed and what percentage of their total revenue this represents.
"Today's news raises further serious questions about the construction industry's business model and Build UK is committed to working with the industry and its clients and investors to learn lessons and embed change through the supply chain."
British Woodworking Federation chief executive Iain McIlwee also said it was almost ironic that news of Carrillion's collapse came as final comments for the government's retentions consultation were being pulled together.
"This debate is not about whether the state should bail out Carillion, but whether government can in all conscience turn its back on a supply chain of SMEs who will end up carrying the can for poor procurement, bad business management and an endemic failure by the government to address some of the archaic procurement practices surrounding late payments and retentions that place risk unfairly on SME sub-contractors.
"Many of the creditors are SMEs and the sums, whilst likely to be significantly lower than the liquidators will take, could define the future of these businesses - it would be a gross injustice if their money unfairly held is lost in this process.
Retentions in the construction industry have recently been under fire with Tory MP Peter Aldous last week introduced the Construction (Retention Deposit Schemes) Bill in the House of Commons under the 'Ten Minute Rule' early last week.