BPF and RICS sounded out over issue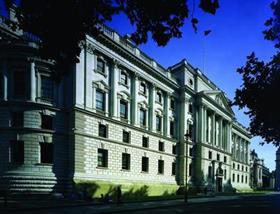 The Treasury is taking a comprehensive look at the way real estate is taxed in advance of chancellor Philip Hammond's first Autumn Budget at the end of the year.
Ion Fletcher, director of finance policy at the British Property Federation, told Building that the Treasury had told the body it was having a "holistic look at how real estate is taxed" as part of preparations for the Autumn Budget. And Jeremy Blackburn, head of policy at the RICS, said: "We have been asked as well if we can help – there's a definite longer look being taken. It doesn't appear to be about short term or snappy measures, but is stepping back and asking 'how is this operating?'
The news comes as the government comes under increasing pressure from developers over stamp duty rises brought in by former chancellor George Osborne, which have contributed to steep falls in the value of prime property, particularly in London, and hit returns in the emerging Build to Rent sector. The government is also facing criticism over the controversial proposed revaluation of business rates, the cost of which affects commercial property rents, and therefore directly impacts upon development viability.
However, the considerations appear to fall short of a formal review of property taxation and it is unclear whether the move has been prompted by a desire to reform aspects of property taxation. Sources said the study by the Treasury appeared to show a more cautious approach to tax policy than evident under Osborne and as such "bore all the hallmarks of the new administration."
The BPF's Fletcher said: "One of the Treasury's stock lines is that all taxes are constantly under review. We understand at the moment that this particularly relates to property taxes."