The Clyde commercial framework will run for 10 years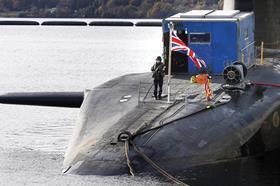 Marine engineering specialist VolkerStevin has joined Kier Graham Defence and Morgan Sindall on the Defence Infrastructure Organisation's 10-year Clyde commercial framework.
The Clyde Commercial Framework supports the £1.3bn Clyde programme providing state-of-the-art facilities for personnel responsible for delivering the UK's continuous at sea nuclear deterrent.
The three firms will advise and deliver construction services and other infrastructure services to enable the Clyde Naval Base to continue in its new role as the Royal Navy's Single Integrated Operating Base.
The framework was procured by DIO on behalf of the Ministry of Defence with support from procurement specialists including Mott Macdonald and Jacobs.
DIO's Commercial Strategy was launched last year and sets out the vision for future ways of working with suppliers in soft and hard facilities management, construction and property advisory sectors.
As part of this, the DIO aims to increase supplier numbers and create a competitive supply base which offers greater opportunities to SMEs as well as larger suppliers.