Council scheme will include offices, theatre and public space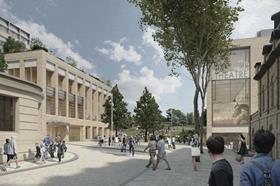 Mace has been appointed to build a £90m mixed-use scheme in Tunbridge Wells.
Tunbridge Wells borough council handed the contractor the Calverley Square project, which will see the development of a new office building, theatre, underground car park and public square in the Kent spa town.
Planning permission for the Allies and Morrison-designed scheme was secured in April, with work expected to begin in 2019 and completion scheduled for 2021.
The development, which includes approximately 20,000ft2 of private tenanted offices, has been planned around the entrance to Calverley Grounds park.
The work will be carried out by Mace's business unit which specialises in public sector, arts and cultural work and which is headed by Terry Spraggett.