Chairman of London-based subcontractor is no longer a director at the business, with firm making a series of changes to structure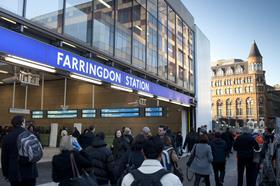 The chairman of troubled London-based subcontractor Alandale Group is no longer a director at the business, according to documents filed at Companies House.
Perry Morgan, chairman of Alandale Group, has resigned as a director of the £42m-turnover business at Companies House and has been removed as chairman and director from both Alandale Group's website and the firm's organisation chart.
The change comes amid a series of other changes to Alandale Group's structure, with the firm no longer listing its rail business as an Alandale Group company on its website or organisation chart.
John Zayya, rail director at Alandale Group, has also been removed from the firm's list of directors and the firm's organisation chart.
Alandale has also extended its accounting period at Companies House by six months to the end of the 2013 calendar year.
The changes come amid a turbulent time for the firm. As Building revealed in April, Alandale is at the centre of a British Transport Police fraud inquiry over alleged corruption in the procurement of rail construction contracts in London.
The inquiry is centred on Network Rail's £250m upgrade of Farringdon station for Thameslink, with the investigation leading to the arrest of three senior figures at Alandale, and a further arrest of an individual connected to the Laing O'Rourke and Costain joint venture leading the project.
There is no suggestion that Morgan's resignation as a director or the change to Zayya's role are connected to the police investigation.
This week the British Transport Police (BTP) told Building that the four individuals it has arrested have been re-bailed until April.
The BTP added that no charges have been laid and the investigation is continuing.
Morgan did not respond to a request for comment this week.
Alandale Group declined to say if Morgan remained with the company.
Zayya said he was still with Alandale, but declined to clarify his current role with the business and declined to say if Alandale Rail was continuing as a business.
He added that the fraud probe was focused on Alandale Rail and "no other company under the Alandale umbrella" and that the firm would not comment further as it had taken "legal advice so as not to prejudice the ongoing enquiry".
In a statement in April, Zayya said the firm "totally refuted" the allegations and was assisting the police with their investigation.
Alandale Group, which also has logistics divisions and a scaffolding arm, has worked on a number of high profile projects, including the London 2012 Olympic velodrome and the broadcasting and media centres, as well as the £920m Paradise Street development in Liverpool.