Industry leaders fear victory for property mogul will destabilise the world economy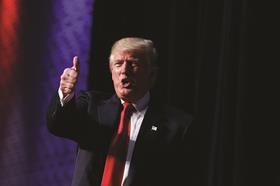 Donald Trump has been voted the 45th president of the United States in a shock result already sending jitters around the world.
Global markets took an immediate hit, although they have begun to rally as the day continues.
In his victory speech, Trump said he would bring the country together after a divisive campaign, saying: "It is time for us to come together as one united people." He said under his presidency the US will have "great relationships" with other nations and "will double our growth and have the strongest economy anywhere in the world".
But economists are predicting dire consequences both in the US and across the globe. Megan Greene, chief economist at Maulife Asset Management, told the BBC this morning if Trump's highly protectionist policies were taken "at face value" the US would have a "recession" with implications for other countries' economies and in a worst case scenario there could be an international "trade war".
Trump's election is likely to dismay the UK construction industry. Before the election, UK construction leaders voiced fears a Trump presidency in the US could destabilise the world economy and have a negative impact this side of the Atlantic.
"Nobody in senior business circles wants Trump," Ann Bentley, global chair of UK-based consultant Rider Levett Bucknall said in the run up to the election. But, referring to the UK's vote for Brexit, she added: "Just because the business community thinks something is insane, doesn't mean it's not going to happen".
Of most concern to UK construction is Trump's protectionist economic stance.
Will Waller, market intelligence lead at Arcadis, said: "Given America's significance to the UK as a trading partner and investor, UK construction will hope that any potential for protectionism or isolationism will be limited."
Meanwhile, Ben Derbyshire, RIBA president-elect and managing partner at architecture practice HTA, voiced concerns a Trump presidency, hot on the heels of Brexit, could hasten a general clampdown on freedom of movement between countries for professionals.
Analysts in the US had said the result would be like the "US version of Brexit". Mark Zandi, a former adviser to Republican president John McCain, said: "No one is sure what kind of specific policy decisions president Trump would make and businesses would pause until they got more clarity. That would slow economic growth."