Construction union Ucatt is exploring a potential merger with other unions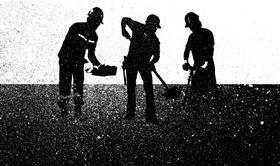 Union Ucatt has confirmed it has held talks with other unions about a potential merger to create a construction super union.
A spokesperson for Ucatt said: "A number of preliminary discussions are being arranged with several organisations."
Ucatt represents over 80,000 members across England, Wales, Scotland and Northern Ireland.
Other unions representing construction workers include Unite and the GMB, although Building has no information to suggest Ucatt has held talks with these unions.
In its latest set of financial results Ucatt said its total income for the 2014 calendar year was £6.9m, of which £5.4m derived from membership payments.
However, Ucatt's total expenditure for the period was £9.2m, meaning it had a shortfall of £2.3m in its accounts.