UK's biggest architecture firm reports largest ever global revenue
Foster + Partners has reported a hike in profit and its "highest ever" global turnover despite a drop in UK business.
In it's annual accounts for 2018-19 the practice, which is the UK's biggest employer of architects according to the WA100, said profit before tax was £21.5m for the year to April 30 – up 3.4% on the previous year's figure.
Fosters said global turnover was £258m, up 21% on 2017-18 – however last year's figure was significantly down on both previous years. Its 2018-19 figure is less than £1m above its 2015-16 revenue.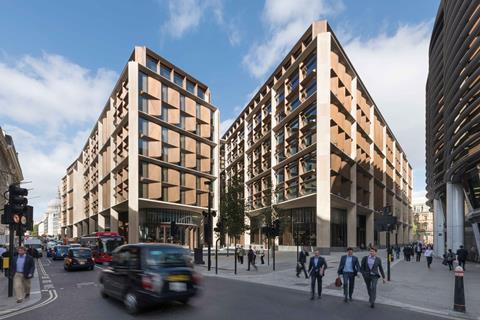 A regional breakdown of Fosters' turnover showed that its revenue in Asia and the Middle East raced ahead in 2018-19.

But its UK revenue fell in the year the practice won the Stirling prize for an unprecedented third time with its Bloomberg London building.
Asia was Fosters' biggest market, contributing £71m to its revenue total – up 20% on the previous year – while the Middle East accounted for £54m, up 43%.
UK revenue dipped 6.5% to £21m, while revenue for continental Europe was up 18% to £24.5m.
Fosters said it had increased its headcount year on year and had an average of 1,317 staff in 2018-19, up from 1,266 in 2017-18.
Chairman and founder Norman Foster said the past year had seen the practice notch up "many highlights" as it moved "from strength to strength with our highest turnover in the history of the practice", which was founded as Foster Associates in 1967.
Foster's high points included the opening of new offices in Shenzhen and Dubai, and growth in the number of employees working in San Francisco, Singapore and Shanghai – with the latter two moving into larger premises.
Despite the US and Asia expansions, the practice said 80% its staff were still based in London.
Foster also took the opportunity to voice concerns over the impact on the profession of the UK's decision to leave the European Union.
"The prospect of a restrictive Brexit and the rise of nationalism are threats to all of us who cultivate excellence through scholarship and diversity," he said.
Foster also thanked local authorities around the globe for consenting to and regulating its projects over the past 12 months, despite its proposal for a new London skyscraper – The Tulip – being rejected by the City of London Corporation under orders from Sadiq Khan.
The accounts said that Foster + Partners' highest-paid director received £2.5m during the year to April 30. Foster stood down as director of Foster + Partners Group Ltd on July 2 this year as part of a corporate restructuring, however he joined and remains on the board of the business' new ultimate holding company.