Aukett Swanke among firms told to keep eyes on Foreign Office advice as Russia-UK spat continues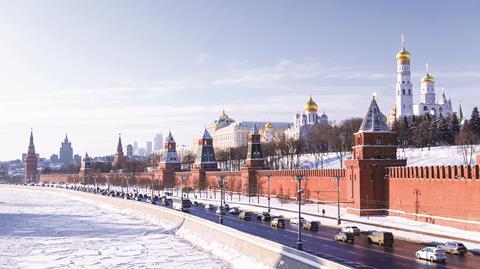 Firms working in Russia have been told by the government to prepare for an anti-British backlash in the wake of the escalating diplomatic row between the two countries.
Last week the UK and Russian governments said they were both expelling 23 diplomats with Moscow also closing the British Council in Russia and the British Consulate in St Petersburg following the attack on a former Russian spy and his daughter in Salisbury earlier this month.
Issued last week, the advice of the Foreign Office for those working in or due to travel to Russia is to "be aware of the possibility of anti-British sentiment or harassment at this time".
We're seeing how the spat develops.Nobody has rung up to say a project can't go ahead

Bob Fry, Aukett Swanke
A spokesperson for the Department for International Trade said it was keeping in touch with firms and telling them to follow the latest Foreign Office advice.
He added: "There are many long-established UK companies operating in Russia whose business supports jobs back in the UK and we will continue to provide advice and support to those with existing investments in the country.
"We will offer updated commercial advice when it becomes available and would urge companies to take heed of the latest FCO travel advice."
Companies working in Russia include Aecom, which employs 600 people out of offices in Moscow and St Petersburg and which has completed work on close to 2,000 schemes since first establishing a base there back in the mid-1990s.
A spokesperson for the consultant said it was keeping a watching brief on the situation with another firm, Aukett Swanke, also pledging to do the same.
Bob Fry, the architect's managing director of its international business, which also includes Turkey and Germany, added: "We're seeing how the spat develops. Nobody has rung us up yet to say a project can't go ahead."
Aukett Swanke, the country's only listed architect, has been working in the country since the 1990s and currently carries out around £300,000 worth of work in Russia from its office in Moscow.
It has worked on schemes in the capital as well as further afield in Perm, Siberia, and Vladivostok on the country's Pacific coast and with well-known local developers including Pik and AB Developments.
It also carried out work on a 5,000-room hotel for the 2014 Winter Olympics in Sochi.
Fry said: "We don't have any expats out there and to a certain extent that might insulate us. At a local level there is no discussion on the issue at the moment."
Another firm, which asked not to be named, said it was not expecting the row to have an impact on its business in Russia. "Our business strategy operates in three-year cycles. I wouldn't expect any snap decision to be made in terms of the current climate in Russia."