Initiative was launched back in 2012 by George Osborne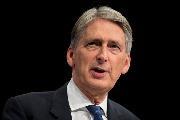 The UK Guarantee Scheme will be extended to include construction guarantees, addressing uncertainty about infrastructure projects after Brexit, Philip Hammond has said.
In his Mansion House speech to the City of London, the Chancellor noted that "the European Investment Bank (EIB), and its offshoot, the European Investment Fund (EIF), have been an important source of funding for infrastructure investment and for growth businesses".
He continued: "To ensure that finance continues to be available after Brexit, I can announce I am expanding the support available to capital funding in the UK. For infrastructure projects, we will broaden the range of the UK Guarantee Scheme by offering construction guarantees for the first time.
"And we'll consider other credit enhancement tools, such as first loss guarantees, to reduce the financial risk that complex projects face."
The UK Guarantee Scheme, launched by Hammond's Treasury predecessor George Osborne in 2012, guarantees that lenders to infrastructure projects will be repaid in full and on time. In the last autumn statement, it was extended to 2026. Projects which have used the scheme include the Northern Line Extension and the Mersey Gateway Bridge.
In the short term, Hammond said he wanted the UK to retain access to EIB funding while still a member of the EU.
"I am engaged with EIB and will provide the assurances it needs to sustain the flow of EIB and EIF funding to UK businesses and projects," he explained.
"One of my immediate priorities is making sure government is doing all it can to facilitate access for firms, large and small, to patient capital, to allow them to grow and bear the fruits of the flow of innovation that is pouring out of UK universities.
"In the long-term, it may be mutually beneficial to maintain a relationship between the UK and the EIB after we leave the EU," he added. "We will explore the options together."