Manchester and Liverpool call for more transport powers as they showcase new schemes at Mipim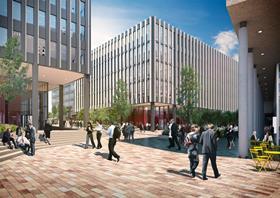 Local government leaders attending Mipim this week showcased a host of new developments outside of London while hailing what they described as an "unstoppable" drive towards devolution for the UK's city regions.
Manchester city council chief executive Sir Howard Bernstein and Liverpool's elected mayor Joe Anderson both said that the transfer of power on offer from Westminster would lead to economic growth.
Bernstein told a "northern powerhouse" event at the property fair in Cannes on Tuesday that the UK's city regions had a lot to learn from their European neighbours, and that the devolution of transport powers would be crucial.
He added that "a lot of big projects" would be hitting the Manchester market in the coming months, including the redevelopment of Granada Studios and the city's planned "The Factory" arts venue. Bernstein said: "The key to agglomeration is better transport connections. Look at city regions in Germany, you see them performing better in terms of GVA [gross value added] and productivity."
Separately, the Airport City Manchester joint venture announced work would start this summer on a speculatively developed 75,000ft2 office scheme (pictured) at the enterprise zone.
The whole project aims to deliver 5 million ft2 of office, logistics, hotel, retail, and advanced manufacturing space next to Manchester airport over the next decade. Lynda Shillaw, chief executive officer for property at Manchester Airports Group, said pushing ahead with the new office building without an anchor tenant reflected "the quality" of the offer and the developers' belief in "the strength of the region's economy".
On Wednesday, Birmingham city council unveiled proposals to redevelop a 14ha city fringe site centred around the Wholesale Markets area with a "family leisure quarter" including 100,000m2 of new floorspace and 1,000 new homes. City council director of planning and regeneration Waheed Nazir said the project, known informally as "Birmingham Smithfield", would have a transformational impact.
"It will radically enhance the city's retail, visitor and residential offer."