Facility will capture all carbon emissions and store them under the North Sea.
Plans to build the UK's first net zero power station in Teesside have been unveiled. The natural gas plant at the Wilton International industrial site is the latest in a string of major green power projects in the region.
It will capture all carbon emissions that it produces and then store them under the North Sea. Known as the the Whitetail Clean Energy project, it will be jointly developed by US clean energy firm 8 Rivers Capital and Middlesbrough's Sembcorp Energy UK, which owns the site.
The plant will combust natural gas with oxygen instead of air, and use a fluid form of carbon dioxide to drive turbines instead of steam. It could produce about 300 megawatts of electricity per hour and be in operation by 2025.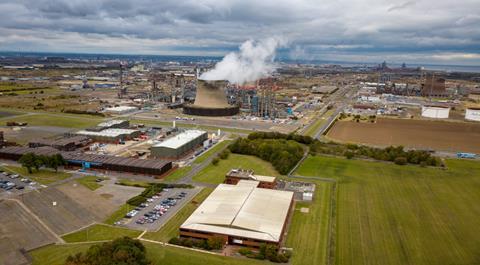 Anne Marie Trevelyan, the construction and energy minister, told the BBC that the plant was "a real game-changer". She called it a "significant step forward in the UK's fight against climate change" and said it would "help to revitalise this key industrial heartland".
The project has received £6m of government funding since 2012.
In March, BP announced plans to build the UK's largest hydrogen plant in the region. The facility would produce up to 1GW of "blue" hydrogen, 20% of the UK's hydrogen target.
Teesside was chosen for the project due to its close proximity to North Sea carbon storage sites, pipe corridors and existing hydrogen storage and distribution facilities.
The final investment decision on the hydrogen plant is expected in 2024, with production potentially beginning in 2027.
BP is already building a factory on the site, which will manufacture 107m long blades for offshore wind turbines.
Ben Houchen, the region's mayor who won 73% of the vote in May's local elections, has also campaigned for Tesla to build one of its vehicle battery-producing gigafactories in Teesside.