Climate Summit in New York asks professional body to help focus on measures for built environment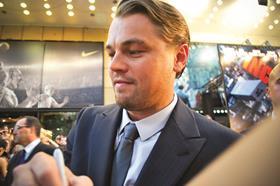 The United Nations has commissioned the RICS to develop a "climate toolkit" for businesses worldwide that want to reduce carbon emissions generated by their buildings, after a high-powered meeting attended by RICS chief executive Sean Tompkins, UN general secretary Ban Ki Moon, and Hollywood A-lister and UN envoy for peace Leonardo di Caprio (pictured).
Business and political leaders came together at the UN Climate Summit in New York last month to agree initiatives and actions to reduce carbon emissions and build momentum ahead of a final UN Climate Summit in Paris next year, where governments will try to establish a new agreement to tackle global warming.
At a key meeting at the New York summit - also attended by French president Francois Hollande, former US vice-president Al Gore and 50 business chief executives - RICS was asked to produce the climate toolkit for businesses.
Tompkins told Building: "At previous UN climate summits the focus has been on energy and finance companies; the built environment has not had a significant voice.
"The New York summit agreed that the built environment should have a leadership position at the Paris summit. Around 40% of carbon is emitted by buildings, so the built environment should have a much more significant voice."
Tompkins added he hoped the RICS work with the UN would culminate with a "joint UN and RICS event in London in June or July next year", ahead of the Paris summit in December.
The RICS was the only professional body invited to the New York summit meeting, Tompkins said.