ZHA comes joint second, with special mention for UK firm Knight
UNStudio has beaten 17 practices including Zaha Hadid Architects to land the job of designing a new traffic bridge over the Danube in southern Budapest.
ZHA came joint second with French practice Lavigne & Chéron Architects.
Three further entries were singled out by the judges for a special mention including one by UK practice Knight Architects.
UNStudio's 220m-long two-pylon stayed girder design was praised for preserving an unobstructed view.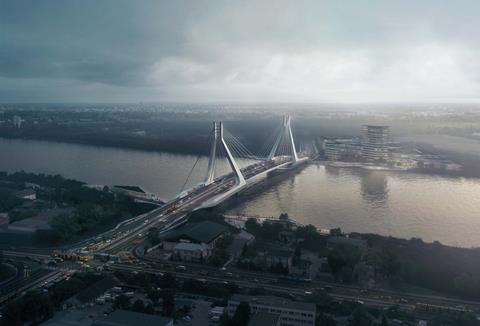 The jury said it was the "statically soundest proposal, which is also aesthetically pleasing, graceful, slim, well-balanced and one that best fits with the cityscape".
With three traffic lanes in each direction and the possibility of a tram line, it is predicted to reduce the traffic load on congested inner city bridges by 55,000 cars a day.
Balázs Fürjes, government commissioner for major Budapest developments and president of the jury, said that the board had faced an "embarrassment of riches" with excellent designs submitted.
He said that the construction of the bridge would finally fulfill an idea for a crossing that dated back to 1985. Later, in 1992, a design competition was held which came to nothing. Still later, the potential bridge also featured in the transport system development plan in 2001, he added.
He was confident that UNStudio's project would be built, saying a contract would be signed with the successful team, followed by the creation of detailed designs and the obtaining of permits. The process is expected to take two to three years.