Unite representing 27 workers who lost their jobs following the contractor's collapse in January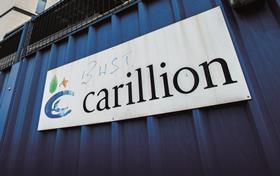 Unite has launched a legal action on behalf of 27 of its members who were made redundant following the collapse of the Carillion group in January.
The union says the move is the first such action taken on behalf of workers affected by the contractor's liquidation.
Unite's members were employed by Carillion's group company Planned Maintenance Engineering Limited on a contract at GCHQ the government's listening post in Cheltenham, Gloucestershire.
The union said its members were dismissed on 6 February "without consultation and told to claim their redundancy pay from the government's redundancy payments office".
Its claim is against the Carillion employing company, but Unite said a tribunal judge had added in the Secretary of State of Business, Energy and Industrial Strategy as an additional respondent to the claim, since the Insolvency Service will have to pay its members if the claim is successful.
Unite said its Legal Services team lodged the claim on behalf of its members in early June, "for a failure to comply with the legal obligation to carry out collective consultation before making members redundant.
"As the company was in compulsory liquidation, Unite has had to apply to the court in order for the claim to proceed and Unite is currently awaiting a response from the Official Receiver in relation to this."
In a statement a spokesman for the Official Receiver, which is dealing with the Carillion liquidation, said: "From the date of the liquidation we've prioritised finding secure ongoing employment for as many of Carillion's employees as possible to ensure the continuity of essential public services.
"It is for an Employment Tribunal to determine whether, in these circumstances, the consultation with affected employees met established requirements."
If its action is successful Unite said the workers can each be awarded up to 90 days' pay, however as Carillion is in liquidation this would be paid by the Insolvency Service in the form of unpaid wages and would be capped at eight weeks and a maximum weekly amount of £489.
Unite assistant general secretary for legal services Howard Beckett said: "If our members are successful then once again it is the taxpayers who are going to have to pick up the bill for Carillion's failings.
"This again underlines that the outsourcing model is broken beyond repair and needs to be scrapped."