Allegation comes as unions ask HS2 to take action against the joint venture
Unite has accused a Costain Skanska JV of using skeletons discovered during enabling works on HS2's Euston terminus as an excuse to restrict union activity.
The charge comes as the Trades Union Congress (TUC) has passed an emergency motion demanding HS2 takes action to allow workers at Euston better access to union representatives.
It follows an accusation from Unite in spring that a subcontractor of Costain Skanska (CSJV), Bowercross Construction, had withheld more than a £1m of overtime money from staff working at Euston.
Union officials at the central London site have been prevented from talking to workers in the on-site canteens, according to Unite.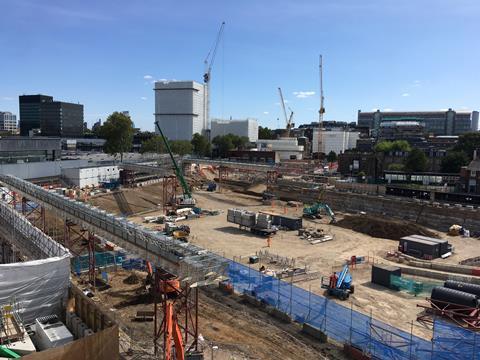 Gail Cartman, assistant general secretary at Unite, said: "Costain and Skanska's reasoning for barring Unite is both disingenuous and sinister, saying that workers need to 'decompress' after being involved in the removal of centuries old skeletons on the site.
Around 45,000 skeletons are expected to be excavated from the site, which was used as a burial ground between 1788 and 1853.

"If workers are traumatised this is when they most need their union, and the workers tell us they want us on the inside," Cartman said.
She added: "Shame on you Costain and Skanska for using the dead to justify your union busting."
But a CSJV spokesperson said th
He said: "We have offered Unite access to our Euston site, which exceeds levels usually seen across the industry. They have not taken up this offer. This would enable Unite to meet with all our operatives at inductions, work site and our welfare area outside break times. Our offer to Unite remains open.
There are no activities on site that require workers to 'decompress' after their shift.
HS2 has been contacted for comment.
In 2016 HS2 signed the Initial Framework Agreement (IFA) with the TUC, in which it vows to "ensure strong working relationships with its contractors and workforces".
The document sets minimum standards for workers, including on union organisation.
But the emergency motion passed at TUC annual conference today noted the congress is "dismayed by the letter sent by CSJV to Unite on 30 August 2019 reiterating its refusal to allow union officials to undertake the standard practice of meeting workers during their breaks in the site's canteens, a flagrant breach of the IFA."
The motion resolves to "call upon HS2 to immediately enforce the IFA and ensure future suppliers comply with the standards agreed in 2016".
Nevertheless, the emergency motion express support for HS2, noting that journey times would be cut, and jobs created by the project.