Housebuilding push drives up prices for bricks, insualtion and roof tiles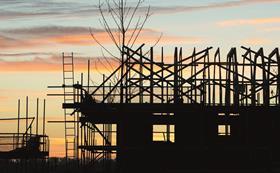 Demand for new construction projects surged at the end of 2017 with the fastest upturn in new order volumes since May recorded, the latest IHS Markit / CIPS survey has reported.
The UK Construction Purchasing Managers' index posted a score of 52.2 for December, down from 53.1 in November but stayed above the 50.0 no-change threshold for the third successive month.
IHS Markit said the latest recording signalled a moderate expansion of overall construction output at the end of last year.
The survey also recorded anecdotal evidence suggesting a recovery in clients' willingness to commit to new work thus creating a prospect of greater workloads, which resulted in stronger rises in employment and purchasing activity during December.
But despite the rebound in new orders construction, firms still expect subdued activity for the next year due to concerns over the UK's economy.
Housebuilding continues as a key driver of growth in the industry and respondents to the survey reported higher prices for blocks, bricks, insulation and roof tiles, alongside continued rises in the cost of imported products keeping pressure on input costs.
Growth in commercial construction continued to fall, while civil engineering activity stabilised ending a three-month period of decline.
Max Jones, global corporates relationship director for construction at Lloyds Bank Commercial Banking, said many construction firms in the second half of last year "focused on shoring up their balance sheets" to enable them to weather any turbulence as the UK enters the next phase of Brexit negotiations.
He added that it was unlikely 2018 would see any more of the mega-mergers, which crescendoed last year with Jacobs' £2.5bn acquisition of CH2M, but it was expected that firms would instead make smaller targeted acquisitions to fill gaps in expertise.
"The loss of momentum in commercial property and infrastructure work dragged down both output and sentiment in the latter part of the year," said Blane Perrotton, managing director of Naismiths
But he added the firm was seeing "consistent appetite among developers to convert office buildings into residential units under the extended and popular Permitted Development Rights".