New Everton stadium: Premier League club unveils proposals for 52,000 seat ground
Everton Football Club expects to submit plans for a new 52,000 seat stadium made out of steel, brick and glass by the end of this year.
Drawn up by architect Dan Meis, responsible for a string of stadia in his native US, the stadium will be built at a waterfront site in Liverpool called Bramley-Moore Dock and will replaces the Toffees' historic Goodison Park home, where it has played since 1892.
A detailed application for Bramley-Moore Dock, which sits in the city's World Heritage Site, and an outline application for the stadium will be submitted to the city council in the coming weeks, the club said.
The Premier League side is planning a 52,000 capacity stadium that can be increased by a further 10,000 in the future.
It will be built on largely abandoned dockland and is intended to kickstart a regeneration of the north Liverpool area.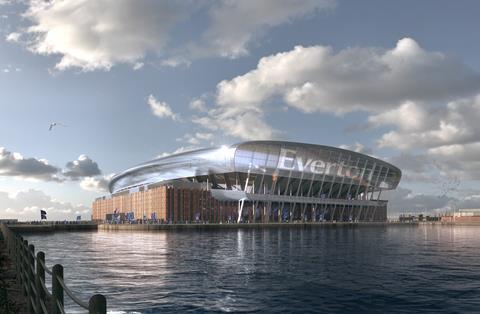 Work will involve creating a fan plaza while existing historical features at the site will be restored including a dry dock wall and the grade II listed Hydraulic Tower, built in the 1880s, which includes an engine house and an octagonal chimney.
Housing is also included in the plans along with 4,000 sq m of office space which is set to be largely used by the football club itself.
A public consultation on the plans kicks off today and will run until 26 August. An initial consultation on the proposals was held last year with more than 20,000 people taking part.