Clients awarded £6.1bn worth of work compared to around £5.5bn the month before
Clients handed out around £6.1bn of construction work in July – up by around £500m from the month before, Glenigan data has revealed.
The figures (see Building Boardroom) reveal that the most work was awarded in the infrastructure sector, with firms here inking deals worth just under £1.2bn – or around 20% of all work awarded in the month.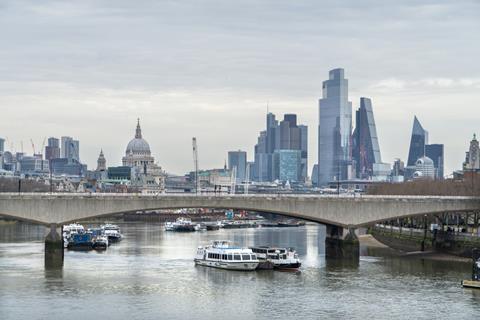 The bulk of this, £445m, was from three Department for Transport deals, and six Network Rail contracts worth a combined £277m.
After infrastructure, the next most prolific sector was social housing, with clients here awarding firms £848m of business.
This was followed by those in the utilities and industrial sectors, at around £738m apiece.
Meanwhile, the data also revealed that £8.69bn worth of projects were approved in July, up 26% on the £6.95bn approved in June.
The private housing sector was the market with the highest value of projects given the green light, with permission secured for 366 schemes worth almost £2.55bn.
After private residential, commercial achieved the second highest value of approvals at just under £1.6bn, followed by industrial at £1.35bn.
Overall the client to receive planning permissions with the highest value was the Department of Health and Social Care. It had six schemes worth a combined £450m given the green light.
Top spending clients - July 2021
The data above and below is a sample of the information on contract awards by sector for June put together by Glenigan. It represents just a small part of the client intelligence that is accessible through the Building Boardroom Network.
Infrastructure
| Ultimate Company Name | Total Number of Projects | Total Value of Projects |
| --- | --- | --- |
| Department for Transport | 3 | £445m |
| Network Rail | 6 | £277m |
| Shropshire Council | 1 | £87m |
| Central Bedfordshire Council | 1 | £62m |
| Welsh Government | 2 | £41m |
Education
| Ultimate Company Name | Total Number of Projects | Total Value of Projects |
| --- | --- | --- |
| Monmouthshire County Council | 2 | £50m |
| Merthyr Tydfil County Borough Council/Pen-Y-Dre High School | 1 | £18m |
| Department for Education/Seva Free School Trust | 1 | £12m |
| Surrey County Council | 5 | £11m |
| Cambridgeshire & Peterborough Combined Authority | 1 | £10m |
Hotel and leisure
| Ultimate Company Name | Total Number of Projects | Total Value of Projects |
| --- | --- | --- |
| FC Palmer and Sons/Greencoat Capital | 1 | £120m |
| Hyatt Group/R&F Properties QS | 1 | £63m |
| CC Land/Meyer Bergman | 1 | £55m |
| Nicolas James Group | 1 | £20m |
| CLP/Marick/Marrick (Beam Reach) | 1 | £18m |
Industrial
| Ultimate Company Name | Total Number of Projects | Total Value of Projects |
| --- | --- | --- |
| IM Properties | 1 | £195m |
| Db Symmetry | 3 | £83m |
| Magnavale Properties | 1 | £67m |
| Pets At Home/Stoford Developments | 1 | £48m |
| Colworth Science Park/Trinity Investments | 1 | £40m |
Medical & scientific
| Ultimate Company Name | Total Number of Projects | Total Value of Projects |
| --- | --- | --- |
| Department of Health | 25 | £120m |
| Cambridge Medipark/Countryside Properties/Liberty Property Trust | 1 | £65m |
| Department of Health/East Suffolk & North Essex NHS Foundation Trust | 1 | £12m |
| Frontier Estates | 1 | £8m |
| Barchester Healthcare | 1 | £6m |
Commercial
| Ultimate Company Name | Total Number of Projects | Total Value of Projects |
| --- | --- | --- |
| Northwood Investors | 1 | £77m |
| Bruntwood Estates | 1 | £54m |
| The Mercers Company | 2 | £39m |
| Ark Data Centres | 1 | £38m |
| Home Office | 1 | £34m |
Private housing
| Ultimate Company Name | Total Number of Projects | Total Value of Projects |
| --- | --- | --- |
| British Land | 1 | £72m |
| Aitch Group/The Laundry Building | 1 | £65m |
| Boyer Planning/Pocket Living | 1 | £36m |
| Thorstone Land & Property | 1 | £26m |
| Healey Development Solutions/Meadow Residential | 1 | £20m |
Retail
| Ultimate Company Name | Total Number of Projects | Total Value of Projects |
| --- | --- | --- |
| British Land | 1 | £56m |
| Wm Morrison Supermarkets | 4 | £20m |
| Fraser Group | 1 | £16m |
| HEVF 2 New Bond Street | 1 | £15m |
| Distell International/Kingsmead Developments/Lidl | 1 | £15m |
Social housing
| Ultimate Company Name | Total Number of Projects | Total Value of Projects |
| --- | --- | --- |
| Notting Hill Genesis | 1 | £98m |
| Gloucester City Council/Reef Estates | 1 | £60m |
| London Borough of Hounslow | 3 | £51m |
| Hollybrook/University of London | 1 | £47m |
| Ministry of Defence | 1 | £42m |
The Building Boardroom Network is an easy-to-use portal where you can access a wide range of vital business insight including research and tools to help bring your construction clients to life. Find out more at: https://www.building.co.uk/building-boardroom/

* private housing awards data refers to external contracts only and does not include frameworks
** projects awarded by a joint venture are listed independently to both single party clients