The value of construction projects in the UK rose by 67% in the last year, with infrasturcture and residential leading the way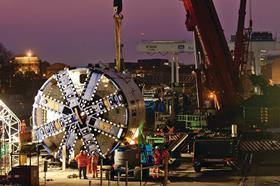 New project contracts awarded in December were worth a total of £6bn, compared to £3.6bn in the same month in 2012.
The infrastructure sector performed particularly strongly, with the total value of projects awarded in December reaching £2.2bn, 10.6% up on the previous month and more than 100% year-on-year growth.
The figures, from construction analyst Barbour ABI, also reveal sustained growth in the residential construction sector. The total contract value for December in this sector grew by 88.2% year-on-year.
Michael Dall, lead economist at Barbour ABI, said: "Residential construction remained strong throughout the latter half of 2013 and has truly spurred on the growth of the industry.
"In the most part, the increase in residential activity can be attributed to the government's Help to Buy scheme, but there are concerns that demand created by such schemes will surpass the rate of house building. This is a topic that will be the source of major debate over the next 12 months in the lead-up to the 2015 elections.
"The performance of infrastructure as a sub-sector is also incredibly encouraging. The figures are a reflection of an exciting year of renewed optimism for the construction industry.
"As a major contributor to figures for the industry as a whole, the sustained period of strong project values in this sector is good news and a key indicator for future growth."
This story first appeared on Building Design