Two-thirds of building now let, funder says
The public viewing gallery of the 22 Bishopsgate tower is expected to open next spring, the firm who masterminded its funding has said.
The platform will be located on level 58 of the 278m tall building with a three-storey restaurant taking the floors above.
Axa head of leasing James Goldsmith told Building it was in talks with operators about running the restaurant with both it and the viewing gallery set to open at around the same time next year.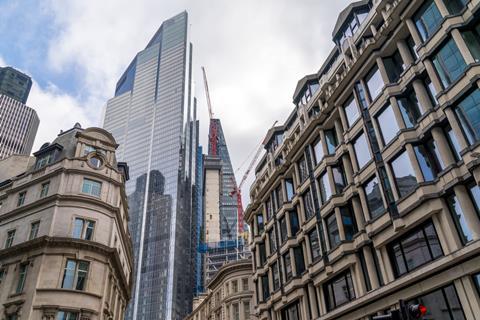 The viewing gallery will be free to use although visitors will be expected to register to control numbers making the journey up.
A restaurant area on the building's second floor, called the Market and which is run by Rhubarb Hospitality, is already up and running and open to the wider public.
Goldsmith said 66% of the building had been let with around 18 tenants calling the 62-storey building, which has around 1.3 million sq ft of lettable space, home.
PLP designed the building and its lead architect on the scheme, Karen Cook, told a conference on tall buildings that tenants were asking for more amenity space on its lower levels in the wake of the pandemic.
She said: "They're saying [this so] that visitors don't have to go up to higher levels and [also] they don't want to stay in the office all the time. They want to be able to move around."
Goldsmith revealed that Axa gave itself three months following the EU referendum in 2016 to decide on whether to go ahead with the building or not. The scheme was put on hold in the wake of the vote to leave but Goldsmith added: "We had a long-term belief in the project and that London's axis was shifting to the east," he told the same conference.
Multiplex, the firm which had started work on its forerunner, the KPF-designed Pinnacle which was mothballed because of funding problems in the wake of the 2007/8 financial crash, eventually completed the scheme at the end of last year.