Lib Dem leader says senior executives are profiting from Help To Buy activity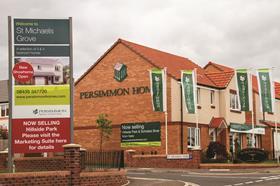 Vince Cable, leader of the Liberal Democrats, has called for a new scheme to cap bonuses paid out to executives at UK housebuilders who benefit from the government's Help To Buy programme.
In a letter to Stewart Baseley, executive chairman of the Home Builder's Federation (HBF) and seen by Building, Cable – who has called for the scrapping of the Help To Buy initiative – said companies were profiting from the taxpayer-funded scheme and executives were reaping excessive payouts, citing the "disturbing" case of Persimmon, whose chief executive Jeff Fairburn earlier this year pocketed a bonus of £110m.
Cable said executives were being rewarded, in part, as a result of a government support programme "as opposed to executive initiative".
Fairburn later agreed to hand back £30m of his payout, but bosses at rival firms including Redrow chairman Steve Morgan publicly criticised Persimmon at the time over its executive remuneration policy.
While Cable labelled the payments as "very large, even by the extreme standard of British business" the LibDem leader said he did not want Parliament to be forced to come down "heavy handedly on housebuilders through legislation". Instead he proposed a voluntary code for the country's biggest listed developers to be in place "in a matter of months, rather than years".
Executives at firms including Barratt, Taylor Wimpey, Persimmon, Bellway, Berkeley and Redrow would have to agree to a cap on bonuses under a scheme Cable said could be designed and administered by the HBF, although it would need to be "vetted and administered" by corporate watchdog groups.
"The cap could still be generous by corporate standards, but we must never again see a situation where just three executives are in line for a bonus pot of well over £200m, as was the case at Persimmon this year," he added.
Cable has trained his sights on the housing sector before, telling Building in July that the "developer-led model" was failing and "doesn't work because land prices are too high and, by the time this is factored into the price of houses with the developers' margin, they're just unaffordable".
He said he would create a government agency based on the model of new town corporations, which would have borrowing and compulsory purchase order powers.
As well as wanting to bin Help To Buy Cable would also dispense with the Right To Buy, which gives council tenants the right to buy their property at a discount, which he says reduces the amount of available local authority housing stock, although he would leave it up to the discretion of local councils if they wanted to continue the programme.
The HBF said it would respond "in full" to Cable's letter "once we have considered his letter and liaised with members on how we approach his suggestions, but ordinarily it is the responsibility of non-execs and shareholders to set the parameters of bonus schemes".