Four year deal worth estimated £35bn
Vinci, Bam and Wates have all been awarded places on the Crown Commercial Service's new facilities management framework worth £35bn over its four year duration.
In total, 44 suppliers were named on the Facilities Management and Workplace Services framework, including nine SMEs.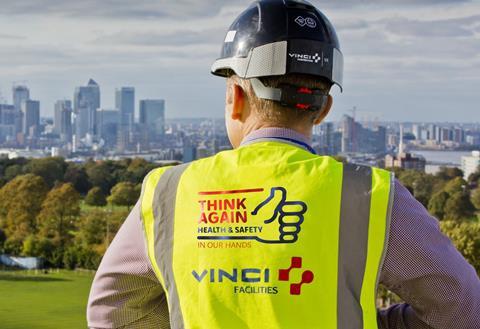 The framework, which adopts the principles of the government's sourcing playbook by weighting toward 'quality' in its criteria, replaces the CCS' Facilities Management Marketplace agreement.
As part of the framework, suppliers will be required to submit quarterly returns to the CCS, showing how they are adhering to baseline requirements for a range of social value activities.
These include modern slavery, carbon net zero, SMEs, under-represented groups, apprenticeships and prompt payments.
The CCS has developed metrics to help suppliers report on these.
The deal has been broken down in three lots, total FM, hard FM and soft FM.
CCS Facilities Management and Workplace Services framework winners
ABM Facility Services UK Limited
Amey Community Limited
Atalian Servest Integrated Solutions Ltd.
Atlas Facilities Management Limited
Avrenim Facilities Management LTD
BAM FM Limited
Bellrock Property & Facilities Management Limited
Bidvest Noonan (UK) Limited
Bouygues E&S Solutions Limited
CBRE Managed Services Limited ("CBRE")
Churchill Contract Services Group Holdings Ltd
City Facilities Management Holdings Ltd
Compass Contract Services UK Limited
EJ Parker Technical Services (Central) Ltd
EMCOR Group (UK) plc
ENGIE Services Limited - T/A EQUANS
FISCO (UK) LIMITED
G4S Facilities Management (UK) Limited
Galliford Try Facilities Management
GRAHAM Asset Management Ltd t/a GRAHAM
Greenzest Limited
H&J Martin Ltd
Imtech Inviron Limited
Integral UK Ltd
ISS Facility Services Limited
ISS Mediclean Limited
Kier Facilities Services Limited trading as Kier Places
Mace Operate Ltd
Mears Limited
Mitie FM Limited
Mitie Limited
NG Bailey Facilities Services Limited
OCS Group UK Limited
Pareto Facilities Management Ltd
Pinnacle FM
Robertson Facilities Management Limited
Rolfe Contracting Limited
Salisbury Workplace Services limited
Serco Limited
Sodexo Limited
Space Solutions (Scotland) Limited incorporating Space FM
Veolia Energy & Utility Services UK Plc
VINCI Construction UK Limited
Wates Property Services Limited