Campaigners fight to protect one of Englands greenest valleys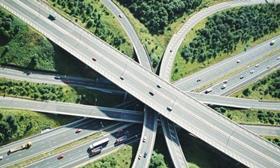 A £93m road scheme being built by contractors Hochtief and Vinci in East Sussex has been hit with a legal challenge.
The Hastings to Bexhill link road has been subject to fierce opposition from campaign groups for years because it passes through the Combe Valley, an area well known for its natural beauty.
Campaign group Hastings Alliance has challenged the validity of the Department for Transport's decision to fund £56m of the build costs on the grounds that the project will not deliver substantial economic benefits but will cause substantial environmental damage and therefore should be scrapped according to the Parliamentary "precautionary principle".
Contractors Hochtief and Vinci are already conducting environmental surveys on the site as part of early contractor engagement with the local council.
Nick Bingham, chair of Hastings Alliance, said the local council was "obsessed" with the scheme. "The bottom line is that it's an evil project which will do a lot of damage and the business case is exceedingly weak," he said.
Peter Jones, East Sussex Council Leader, said: "We are confident the judicial review will not change anything but it could still cause delays, increasing the risk of an increase in costs."
He added: "The road will make it possible to build 1,200-2,000 new homes and business park space of 50,000sqm; it'll create more than 3,000 new jobs and bring economic benefits valued at £1bn."
But Bingham questioned those numbers saying if he was convinced it would bring substantial employment benefits he would support the project.