UK construction arm boss Bruno Dupety says approach could be more efficient and save costs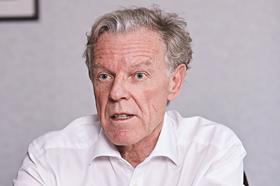 French contracting giant Vinci is looking at bringing some of the trades it uses in the UK in-house in order to give it more control over jobs.
The firm has racked up massive losses on its deal to extend the Nottingham tram network, with the chief executive of its UK business, Bruno Dupety, conceding it will have eventually blown more than £150m in its accounts by the time the job is signed off.
In an exclusive interview published in Building this week, the Frenchman said its interest in bringing some trades in-house, such as concrete frames and bricklayers, was to see if it could be more efficient in the future.
Dupety, who was asked by the group's chairman Xavier Huillard to turn the loss-making UK business around when he joined in autumn 2014, has been mulling the idea with his head of building Chris Hamer and said the initiative could get off the ground as soon as this year.
"We are not ready yet but we are thinking about it," he said. "When you subcontract everything, you lose the control."
He added: "They do it in France and it's very basic thinking. We want to see if we can be more efficient and more productive if we do things by ourselves.
"We have good engineers here in M&E. If we hadn't had those people on board and just relied on subcontractors, you are lost, you are dead. You need to have these qualifications and skills on board."
Dupety said, however, the firm had no plans to develop its own off-site capabilities and has a factory similar to the one Laing O'Rourke has at Steetley in Nottinghamshire. Ray O'Rourke's firm admitted in its last accounts that three jobs at this part of its business had cost it £43m.
Dupety added: "We want to start low, less than 100 [people]. We don't want to jeopardise our recovery."
After two years of thumping pre-tax losses - which totalled nearly £300m - Dupety said the UK construction business would post a small profit in 2016 on a turnover of close to £1bn. He said the margin would be 1%, meaning profit will be around £10m.
In September 2015, another French-owned contractor, Bouygues, landed work at the Battersea Power Station redevelopment, with that scheme's project manager telling Building the firm had won it due to its ability to deliver the building's concrete frames itself without having to subcontract it out.