Whitechapel job is firm's first for Barts trust

Wates is expecting to complete a scheme to turn two out-of-use floors at the Royal London Hospital into nearly 180 beds for covid-19 patients later this week – less than five weeks after it began.
The firm has been working on the scheme in Whitechapel, east London, day and night since the end of last month after being asked by the Barts Health NHS Trust to turn levels 14 and 15 of the hospital into six wards with 176 beds and 117 clinical support rooms.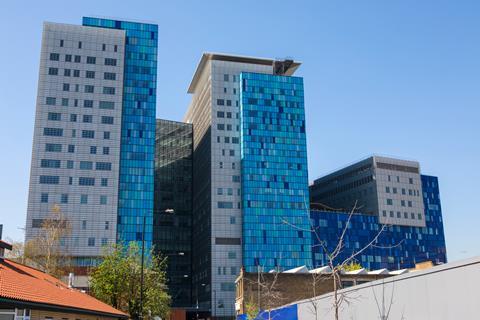 The scheme is the contractor's first for the trust and has seen up to 600 people working 24 hours a day in two 12-hour shifts patterns to get the job ready.
Matt Towner, the firm's operations director for its M&E arm, SES, said the scheme would normally have taken 12 months to complete. "There would have been six months of planning and design and going through the Ojeu process."
The rebuilt Royal London was originally completed by Skanska under a PFI deal and at the time it was signed in 2006 the £1bn scheme was the country's biggest hospital redevelopment.
Because the floors had already been built the job has effectively become an M&E fit-out and Towner said it had introduced a number of measures to cope with government social distancing protocols.
These have included spraying a 2m grid on the floors of the two levels, fitting wooden cubicles into lifts that workers would stand in knowing they were 2m apart from colleagues – lifts carry four workers plus the lift operator – and staggering start and break times. So-called drawing stations, where people could access site plans, also have a 2m zone around them.
More than 20 marshals on site have ensured rules are being followed. "It took quite a lot of policing at first," admitted Towner, "but after day three or four it was almost managing itself."
Workers have driven to the site with the hospital giving over free car parking space to them while operatives get to the site via a goods lift so they didn't come into contact with the rest of the hospital.
Asked whether the job could become a blueprint for other firms struggling to work out how to get labour-intensive sites back up and running, Wates project director Rob Clifford said reopening projects had to be done on a site-by-site basis but he admitted: "We've had achievements on this project that I never thought would be possible."
Skanska completed work on the Royal London scheme, which also included St Bartholomew's Hospital in the City of London, in 2016 having sold its one third stake in the PFI concession the year before for £80m.
Who worked on the scheme
Original Royal London architect HOK, who designed the hospital's two main 17-storey towers and a smaller 10-storey building at the site, was brought in to help along with a host of other firms.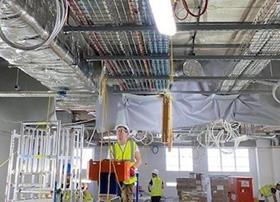 Trade contractors who worked on the job (pictured) included pipework firm GBE Services, electrical contractor Grant Walker Engineering, Paramount Flooring, SCL Interiors, walling firm G&A Group, RDS Ductwork, controls and BMS specialist Lloret and designer Commercial Services Design.