The Stalled Sites Fund provides cash for small homebuilders struggling to finance projects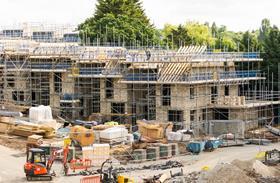 The Welsh Government has pledged £40m to help small builders in order to boost house building in Wales.
The £40m loan fund has a four-year repayment term, and is projected to be recycled four times over 17 years.
Housing and regeneration minister Rebecca Evans announced the fund at an event for SME builders earlier this week.
Announcing the new scheme Evans said: "The Stalled Sites Fund provides £40m of funding to address the gap in the market and through recycling of this investment will make up to £160m available to SMEs over 17 years to help them build more homes in Wales.
"We know that supporting small and medium-sized builders has a knock-on effect on the local economy, as they in turn use local suppliers to source materials and skills.
"We are committed to delivering 20,000 affordable homes in Wales during this term of government, and SME builders are key to helping us achieve this."
The Federation of Master Builders (FMB) Cymru has welcomed the move.
Ifan Glyn, director of FMB Cymru, said: "While we are pleased that the Welsh government has chosen to take steps in tackling the problems accessing finance, there are a multitude of other problems that small Welsh house builders face.
"Anecdotally, we know that the majority of Welsh firms find that the lack of available and viable land is the major barrier to increasing output. More worryingly still, over half say that the number of available small sites is, if anything, decreasing. If the Welsh government wants to meet the ambitious housing targets, it needs to ensure that the long-constrained SME housing sector can once again access viable land, as well as finance."
Research undertaken in 2015 suggested there were potentially 7,600 homes on nearly 400 sites across Wales, where progression had been halted for a wide range of reasons, from pre-development works and economic viability, to challenges in securing affordable funding.