Independent advisor to recommend whether £1bn east London project should be OK'd
The government's independent planning arm is being given another chance whether to recommend the controversial Westferry Printworks scheme in east London for approval or not.
Just before Christmas, the Ministry of Housing, Communities and Local Government wrote to stakeholders on the 1,500-home scheme to tell them the inspectorate would be in touch with them shortly about what happens next.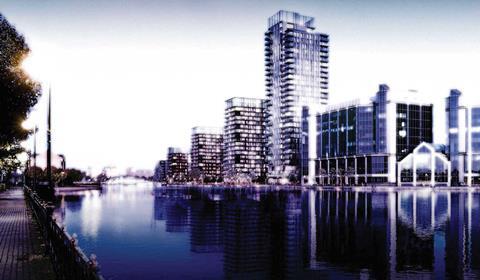 In the letter, stakeholders were told secretary of state Robert Jenrick is reopening the inquiry to look at several matters including the implications on the London Plan and local planning policies within Tower Hamlets.
This would be the second time the project, which is being proposed by billionaire and Conservative Party donor Richard Desmond, has been put before the inspectorate after the body previously recommended that it be blocked.
Last January, Jenrick ignored the inspectorate's recommendation and used his ministerial powers to move ahead with the scheme.
But it later emerged Jenrick had asked officials at the ministry to fast-track the application for the £1bn scheme to help Desmond, the owner of the scheme's developer Northern & Shell, to avoid the Community Infrastructure Levy (CIL) which was introduced by Tower Hamlets at the start of last year.
Officials advised Jenrick on the timing of the CIL charge on his first day back in the office after the 2019 general election, weeks after the minister was shown a video of the scheme by Desmond at a Tory party fundraising dinner in November 2019.
Desmond subsequently texted Jenrick asking him to speed up his decision "as we don't want to give Marxists a load of doe [sic] for nothing!"
The Westferry scheme's architect PLP is working up detailed designs for the job.
Northern & Shell had said in its annual accounts last summer it was confident the scheme would finally win approval before the end of the year.
Mace is project manager on the job.