Firm one of key suppliers told to provide back-up plan to avoid repeat of Carillion-style mess earlier this year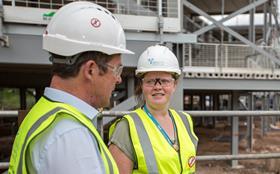 Interserve has agreed to provide the government with a back-up plan to avoid Carillion-style carnage in the event of its collapse.
David Lidington, minister for the Cabinet Office, announced on Monday evening that key government suppliers are being asked to draw up so-called "living wills" to ensure public services continue without severe interruption after company failure.
Lidington said: "Carillion was a complex business and when it failed it was left to government to step in – and it did. But we did not have the benefit of key organisational information that could have smoothed the management of the liquidation.
"By ensuring contingency plans can be quickly put in place in the very rare event of supplier failure, we will be better prepared to maintain continuity of critical public services."
Carillion's collapse in January disrupted provision of almost all its 420 public contracts, including construction of two hospitals. Five firms, including Interserve, Engie, Capita and Serco, have agreed to provide a "living will" within weeks.
Interserve holds contracts across central and local government and in sectors including construction, healthcare, catering and facilities management.
An Interserve spokesperson said: "Interserve is participating in the living wills programme alongside other major suppliers to government."
Asked in the House of Commons yesterday to give an assurance on Interserve's health, business secretary Greg Clarke told Labour MP James Frith: "My colleagues across the government and in the Cabinet Office have close relationships with all the suppliers to the government so that we can be aware of the prospects and we have nothing further to report."
The Cabinet Office has said more firms are set to follow but declined to confirm whether the initiative is mandatory – or which further companies could produce wills.
Alongside Interserve, Kier and Amey are on a list of strategic suppliers drawn up by the Cabinet Office and assigned Crown Representatives – introduced in 2011 – to oversee their government work.
A spokesperson for Amey said: "Amey has not been asked to pilot the 'living will' scheme but is engaged with Cabinet Office reforms."
Kier said: "We are a strategic supplier to the government, and we work closely with the Cabinet Office."
Earlier this month, Interserve's share price was shredded after problems on an energy-from-waste job in Derby emerged with the firm failing to hand it over when it said it would at the end of September.
In a half year report, its joint venture partner on the scheme, waste management firm Renewi, said Interserve may lose so much money on delays to completion of the plant, originally due to be delivered in spring 2017, that, as its JV partner, it could be forced to cover additional costs.
The news spooked investors that Interserve, which completed an almost £300m financing in March, could be forced to go back to banks for another bailout.