Statement comes after share price shredded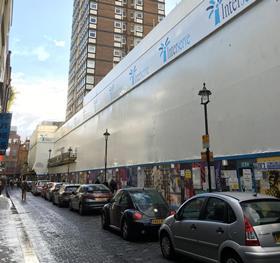 Interserve has issued a statement in an effort to settle investor nerves after its stock price nose-dived during Monday and Tuesday trading amid rumours the firm would seek a refinancing.
The company said: "Interserve notes recent press commentary surrounding the group and the movement in its share price.
"Interserve confirms that the implementation of the group's strategy and the Fit for Growth transformation programme remains on track and the group continues to expect a significant operating profit improvement in 2018, in line with management's expectations."
The firm's comment seemed to calm investors, with its share price bouncing up to 37.5p as of 8.55am Wednesday morning – 8p higher than its Tuesday low but still 7p short of where the stock finished on Friday.
But the company did not deny a BBC report that it was "set to ask new investors for more capital".
The £3.2bn-turnover firm has come unstuck on a number problem jobs including the construction of an energy for waste incinerator in Derby and a Premier Inn on Berwick Street (pictured) in central London's Soho district.
And Cenkos analyst Kevin Cammack was left unimpressed by the firm's statement.
"As defences go, that one is pretty pathetic. Who gives a monkey's about the profits improvement when the group is sat with c£600m of year end debt, negative net assets ex-goodwill, a market cap of just £54m and (very expensive) renegotiated debt facilities which all expire in September 21."
He added the firm had allowed "the market to be gripped by fear (and logic) that a refinancing is coming" and warned: "The issues/delays with the Derby EfW – which have effectively now been confirmed by a statement from its 'partner' Renewi – alone are not a breaker but merely serve to remind us of the fragility of the business and the trading risks that are omni-present in the business/ industry."
Interserve launched its streamlining programme, Fit for Growth, last October after a calamitous year saw the group's loss before tax fall from £94m in 2016 to £244m in 2017.
The group has since undergone an almost £300m refinancing, shut its power business and sold off its scaffolding arm.