Ten years ago Building interviewed a young architectural practice called Wilkinson Eyre. A decade and two Stirling prizes later, we return to ask its principals how it feels to become part of the design establishment - and on the top of their game.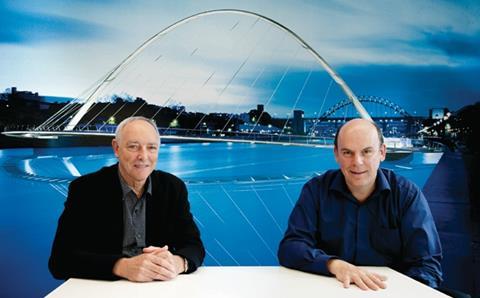 Chris Wilkinson and Jim Eyre like a challenge. Not content with having designed the highest building yet constructed by a British architect (the 440m Guangzhou international finance centre), they want to make working on its mooted companion tower a bit more difficult.
10 YEARS OF WILKINSON EYRE
The practice was founded in 1983 as Chris Wilkinson Architects, and renamed Wilkinson Eyre in 1999. Chris Wilkinson, now 65, was formerly employed in the practices of Foster, Rogers, Lasdun and Hopkins. Between them he and Jim each get involved in all major projects, with his currentworkload including the Siemens pavilion in the Royal Docks, London; a £2m Maggie's Centre in Oxford; and a £28m building for the department of earth sciences at Oxford university.
Jim Eyre, now 51, joined Chris in 1986 from Hopkins. His current workloadincludes the £50m New Bodleian library, Oxford university; the £130m Regent's Place scheme in Euston, London for British Land; and the ambitiousindoor gardens in Singapore called Gardens by the Bay.
They are not going to use the lessons learned from crafting their first super-tall building this time around, Wilkinson (left) tells me, almost gleefully. There are two ways to build super-tall, he says: with a massive structural core taking the load, or by distributing the huge stresses through a steel grid around the side of the building. "We built using a core, and learned a huge amount," he says. "So for the second tower we wanted to see if we could build it the other way." This might sound perverse, but it is typical of the practice's desire to keep pushing itself and only do what it finds interesting.
The last time Building stopped in at Wilkinson Eyre was 10 years ago, and the Gateshead Millennium bridge was just a twinkle in their eyes. It was then a 43-strong, up-and-coming young practice gaining a reputation, particularly through its work on the Jubilee line, for solving complex engineering problems with an architect's eye for elegance and beauty. Then came the unparalleled awarding of two Stirling prizes in consecutive years, for the redevelopment of the Magna Centre in Rotherham in 2001 and the Millennium bridge in 2002. Wilkinson Eyre had arrived, and more success followed.
But is its approach - creative, exacting, believing in doing things the hard way if that's what fascinates them - the right one to win clients during the harshest economic climate in 70 years? Well, business seems to be booming. Having cut back in 2008 after major projects were put on hold, the firm has been taking on staff again, and with 130 people is now almost back to its peak size. This follows a string of competition wins - particularly in the Far East and China - and the resumption of work by British Land on its flagship Euston redevelopment. So while others are mulling more cuts, Wilkinson and Eyre are quietly plotting expansion, with a new office in China opening this year.
What's the secret? "You could say there's an element of luck," says Eyre. "A lot of the projects we've been working on - some really exciting projects - got built. So we're quite prolific." But of course it's not really all down to serendipity: "It's doing the right competitions to start with - you've got to believe that the competition is actually going to produce a building."
If there's luck, then it's in the fact that their design rigour, their ability to craft complex infrastructure normally designed by engineers, and their desire to challenge themselves with all sorts of building types, have worked so well as a commercial strategy. You get the sense that if it wasn't quite so successful, they'd be doing it that way anyway. Eyre again: "That range of work is really important. In business terms it's good as a defensive strategy, but that isn't the only reason we do it - we do it because we like working on different things."
The most striking thing about the pair is their intense air of seriousness. These are people dedicated to a solemn business of getting some Very Good Buildings built. Neither has much time for jokes.
They are now growing their Asian business, which contributes about 35% to turnover, and straight after this interview they are on the way to discuss a competition for a massive mixed-use redevelopment of the expo site in Shanghai. But they don't have an ambition to be the next Foster + Partners. Neither wanted to grow the practice to a size where they couldn't get directly involved in projects. And neither seem particularly fazed that they have been replaced by PLP to design a tower near the Tate Modern in London (despite them winning a hard-fought and controversial planning permission for the site in 2008) for developer Circleplane. "The thing that drives us," Wilkinson repeats, "is the quality of architecture. Each project is an opportunity to explore new ideas. We seek out projects that have the potential to be interesting, rather than building up turnover."
More than two-thirds of their work comes through design competitions, so they are constantly judged on the quality of their craft, not their relationships with developers. And it is encouraging, as with the Guangzhou tower, how close the resulting buildings look to the competition entries. Wilkinson: "We don't design things we don't know how to build - we deliver what we say we can."
However, their ethos has evolved since Building's first encounter with them 10 years ago. "We can't claim to be the new kids on the block, it'd be ridiculous. But creativity just doesn't stop. There's always a drive to come out with new ways of doing things," Eyre says. Their use of materials has evolved to include a wider palette in recent years, and both say they draw less on their architectural heroes - Wilkinson cites both arch-modernist Mies van der Rohe and arch-classicist Palladio as his. "I think now we're so much working in our own way and our own world - we don't refer to other practices in the same way," Wilkinson says. Eyre finishes the thought, rather more esoterically: "I'm not sure you do learn it. It's inbuilt. It comes from within."
Known for being high-tech architects, Wilkinson says this has also evolved. "High tech is still interesting, but we don't let it dominate the designs. It serves the design - we don't fetishise it in any way."
Given what is happening to architects at the moment with ever increasing pressure on fees, and commissions being reduced to just stages of the design process, it is encouraging to see Wilkinson Eyre continue to prosper. While it is realistic about cost management - particularly on projects like the Crossrail station at Liverpool Street - this is a practice which steadfastly refuses to dumb down. It'll be fascinating to see where the next decade takes them.