Contractor's housing arm Willmott Partnership Homes disputes 'many' of council's claims
Willmott Dixon's housing arm and Hackney council have become embroiled in a bitter row over defects on a residential block built by the contractor eight years ago.
Willmott Partnership Homes said it did not accept "many" of Hackney's claims after the local authority said it would launch legal action over construction defects on the building, Bridport House in the east London borough.
The block, designed by Karakusevic Carson Architects as part of the Colville estate masterplan, was built by Willmott Partnership Homes in 2011.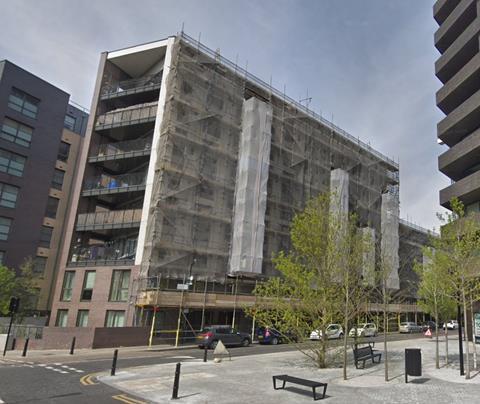 Hackney said it would be looking to move 41 families from the block while the remedial work was being done to remove "potentially combustible insulation" used in the construction of the building.
Concerns about the insulation were raised when engineers were brought in on a separate project in March this year, the council said, and other defects have been investigated since April.
In a statement, Hackney said investigations had revealed "a series of other serious construction defects, including missing barriers to stop the spread of smoke and fire, as well as flawed brickwork, balconies and windows".
The council said the insulation was not part of an ACM cladding system – the type used at Grenfell Tower – and differed from cladding being removed on blocks in Hackney and elsewhere "because it is part of the original construction of the building, rather than retrospectively fitted onto the exterior of an older block".
It had been thought residents could stay put while the work to fix the problems was carried out, but Hackney said after talks with the London Fire Brigade and the Health & Safety Executive Hackney it now planned to move residents out gradually over the next 12 months.
Once residents have begun to leave the building, Hackney said it would take around two years to carry out the repair work.
Philip Glanville, Hackney's mayor, said: "Moving residents from homes we all hoped would be new and permanent is not an easy decision, but our first priority is their safety, and we have decided that at Bridport House, doing this work while the building remains occupied would create an unacceptable risk […]
"We will be taking legal action to hold those responsible for these failures to account. We also should have done a better job."
But in a statement Willmott Partnership Homes said: "This is an extremely complicated matter, significantly exacerbated by various aspects of the Building Regulations recently being reinterpreted following the Grenfell tragedy […]
"Both the cross-laminated timber frame structure and the insulation were both detailed within the council's tender specification upon which the building contract was entirely based.
"The council has made some very strong statements, many of which we do not accept."