Three of finalists say 40 new garden cities needed
Urbed, Barton Willmore and PRP will find out next week if they have won the £250,000 Wolfson Economics Prize for their garden city proposals.
The three are joined on the shortlist by London-based masterplanner Wei Yang & Partners and Chris Blundell, the director of regeneration at Golding Homes.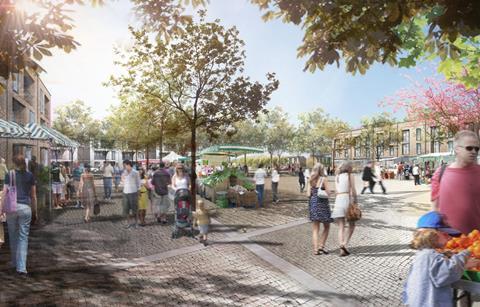 Final details of the shortlisted entrants' proposals have now been published with three – Barton Willmore, Urbed and Wei Yang – suggesting that as many as 40 new garden cities should be built over the next 20 years if politicians are serious about solving the country's housing crisis.
Prize founder Simon Wolfson, who is also chief executive of the fashion retailer Next and who earlier this year shared a £4 million bonus with 20,000 staff, said: "These entries present an overwhelming argument in favour of a new approach to solving our housing crisis."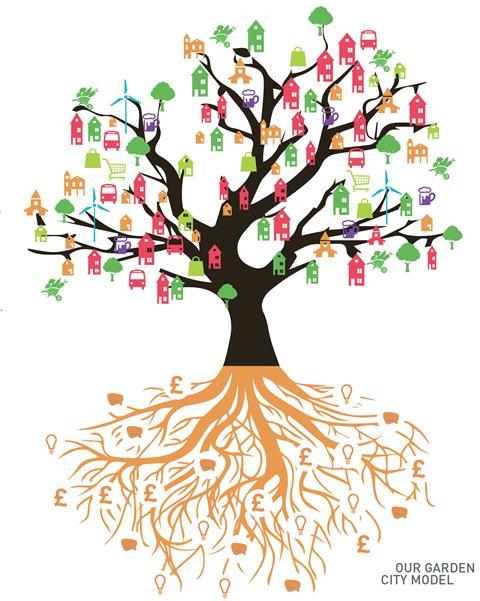 The five shortlisted entries were picked from 279 proposals demonstrating how to turn the 19th-century garden city concept into a 21st-century reality by a panel of judges led by property developer Trevor Osborne.
With its £250,000 first prize, the Wolfson Prize is the second biggest cash economics prize in the world after the Nobel Prize. All other finalists will each receive a £10,000 prize.
An exhibition about this year's prize will be held at the Building Centre and will run from September 4-29.
THE FIVE PROPOSALS
Planning and design consultancy Barton Willmore, supported by financial modelling from EC Harris and inputs from Pinsent Mason, Propernomics and others, suggest four garden city 'types', including the 'greening' of existing new towns, to deliver up to 40 new garden cities. Each garden city would deliver 40-50,000 homes built over the next 25 years, as well as 40-50,000 jobs. A Royal Commission, and Garden City Mayors heading up local Garden City Commissions, would be appointed to champion garden cities and find specific locations for development in the broad regions mapped in the submission. 35% of new homes would be affordable housing for those on low incomes.
David Rudlin (in collaboration with Dr Nick Falk, Pete Redman and Jon Rowland) argues for the near-doubling of existing large towns in line with garden city principles, to provide 86,000 new homes for 150,000 people built over 30-35 years. The entry imagines a fictional town called Uxcester to develop the concept, and applies that concept to Oxford (2011 population: 150,000) as a case study, showing how Oxford could rival the strategy adopted by Cambridge for growth and expansion. David argues that there may be as many as 40 cities in England that could be doubled in size in this way, such as York, Norwich, Stafford and Cheltenham. 20% of new homes would be affordable housing.
Wei Yang & Partners and Peter Freeman (in collaboration with Buro Happold, Shared Intelligence and Gardiner & Theobald) argue that an 'arc' (stretching from Southampton to Oxford to Cambridge to Felixstowe) is the best location for a first round of new garden cities; and uses a model of 10,000 homes (25,000 people) and 10,000 jobs to test a strategy for perhaps 30-40 garden cities built over 10-15 years. 30% of new homes would be affordable housing. The entry invites Local Authorities to ask Government to establish a locally-controlled Garden City Development Corporation, with compulsory purchase powers, using the existing New Towns Act 1981. The Development Corporation would establish a joint venture with a Master Developer to secure delivery at no cost to the Treasury.
Chris Blundell argues that a garden city should be developed south-east of Maidstone (Kent) to accommodate around 15,000 homes (about the size of Letchworth Garden City), coupled with major improvements to the local transport network including a new HS1 station. Delivery should be led by a Garden City Development Corporation with long term management of the garden city being undertaken by a Community Council, which would receive a share of the surplus arising from development. 40% of new homes would be affordable housing. The design and character of development should be developed through extensive community engagement, and reflect local character and distinctiveness. The new garden city would contribute up to £400m annually to the local economy during its construction and support the development of a new engineered homes manufacturing sector.
Shelter, the leading housing and homelessness charity (in collaboration with architects PRP, with advice from KPMG LLP, Laing O'Rourke plc and Legal & General) proposes a new garden city on the Hoo Peninsula in Medway, Kent. Commencing with a settlement of 15,000 homes (36,000 people – about the size of Letchworth Garden City) built over 15 years, Stoke Harbour would eventually grow into a garden city of 60,000 homes (144,000 people – slightly smaller than Oxford). The entry proposes a new model designed to attract massive private investment into the provision of high quality homes, jobs, services and infrastructure. New polling for Shelter in the submission shows that 55% of people in Medway support a new garden city on the Hoo Peninsula compared to just 33% who oppose. 37.5% of new homes would be affordable housing.
Source
This story first appeared on Building Design here.