Women could fill quarter of construction jobs by end of the decade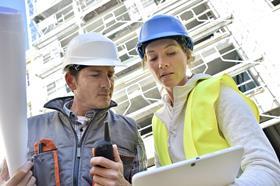 Women are expected to fill a quarter of all construction jobs in the UK by 2020, according to new research.
Research by recruitment firm Randstad CPE has found that since 2010 the number of women in construction jobs has risen by 4%, from 16% to just over 20%, compared to a 1% rise over the preceding five year period.
Randstad projects the proportion of women working in construction will rise to 26% by 2020, and that this proportion could well be higher "given the right cultural change".
The recruiter says that as of today, the proportion of construction jobs held by women is 20%, or one in five.
This tallies with official data from the Office for National Statistics, which puts the proportion at 19.7% as of September 2014.
Randstad also finds that women's pay packets in construction have risen by 6% a year between 2005 and 2015 and that 46% have more than ten years' experience in the industry.
However despite the positive uptick in figures the recruitment specialist warned lack of flexibility and misperceptions in the workplace remain barriers to women's progress.
Owen Goodhead, managing director of Randstad Construction, Property & Engineering, said: "Construction is about laying the foundations of a prosperous future. So the industry can't afford to be stuck in the past.
"In a rapidly expanding industry, every ounce of ability needs to be harnessed. Companies that are addressing the issues facing women in the workplace will have access to a greater pool of talent, and will be able to make the most of the opportunity on offer in a fresh climate of growth.
"By contrast, any complacency on this front will have a clear cost. Businesses that exclude women, even accidentally, will feel the effect on the bottom line."