Controversial scheme at city's 13th century Clifford's Tower revised after original proposal prompted heritage backlash
Local firm Simpson has been appointed main contractor by English Heritage for a controversial scheme to install a viewing platform inside the grade I-listed, 13th century Clifford's Tower in York.
Revised plans for the Hugh Broughton Architects-designed project were approved in September after the original proposals, which were given the green light in 2016, were dropped in 2018 following a backlash from heritage campaigners.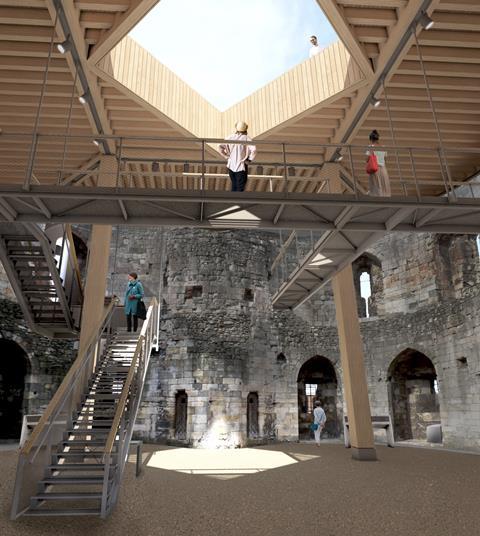 The most contentious element of the 2016 proposal was a single storey visitor centre which would have cut into the base of the earth mound – built by William the Conqueror in 1068 – on which the tower is built.
The visitor centre, which some objectors had described as resembling a "toilet block", has been replaced in the new proposals by an English Heritage branded tuk tuk selling tickets and guidebooks.
The other main element of the £3.4m scheme, a viewing platform built inside the tower and supported by timber columns, will still go ahead with York contractor Simpson due to start on site today (Monday) – later than planned because of the covid-19 pandemic.
The platform will be built just below roof level to avoid affecting views of the tower, with lightweight walkways suspended from beneath providing visitors with access to previously unseen first-floor features.
A staff WC and kitchenette will also be built inside the walls of the tower. The scheme is due to finish next summer.
The project team includes conservation architect Martin Ashley Architects, structural engineer Ramboll, QS RNJ and services engineer Preston Barber.
Built between 1240 and 1275, the stone tower was largely destroyed by an explosion in 1684, reducing the building to a shell.