Campaigners rip into proposed visitor centre and viewing platform for 13th Century tower
Save Britain's Heritage is backing a campaign to get councillors to rethink their approval of controversial proposals for a new visitor centre and viewing platform for York's 13th Century Clifford's Tower.
English Heritage last year appointed Hugh Broughton Architects and conservation specialist Martin Ashley Architects to develop plans for the landmark structure, which is a scheduled ancient monument and sits atop a mound in the city.
Their proposals will see the creation of a new ground-level visitor centre that cuts into part of the tower's motte, the introduction of a timber viewing structure that will partly cover the ruin and the creation of metal walkways that give the public chance to see features on the tower's first floor.
But a petition on the 38 degrees campaigning website said the designs were "ugly beyond belief" and destroyed views of the tower and the mound just to make room for a shop.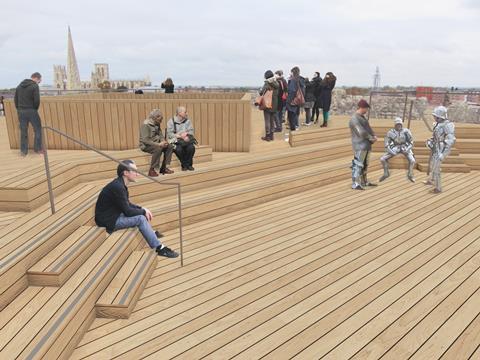 English Heritage, which looks after around 400 of the nation's historic buildings, said the interior interventions would rest on a raft foundation that spread their load and did not impact on archaeology within the tower.
It added that the visitor centre would be "quiet but appropriate" and combine formed stone with bronze-framed low-reflectivity glazing, with staff facilities, plant and storage buried in the mound.
Part of an ancient wall, buried for more than 80 years, will also be revealed through excavations for the visitor centre.
Hugh Broughton, director at Hugh Broughton Architects, said the project had been designed to respect a "cherished monument" in the city.
"They will enhance access, allow many more people to enjoy the tower and provide much improved interpretation," he said.
English Heritage said work on the project was expected to start this month.